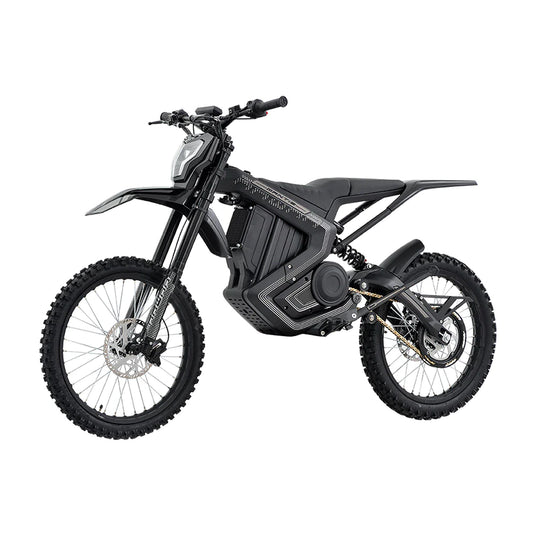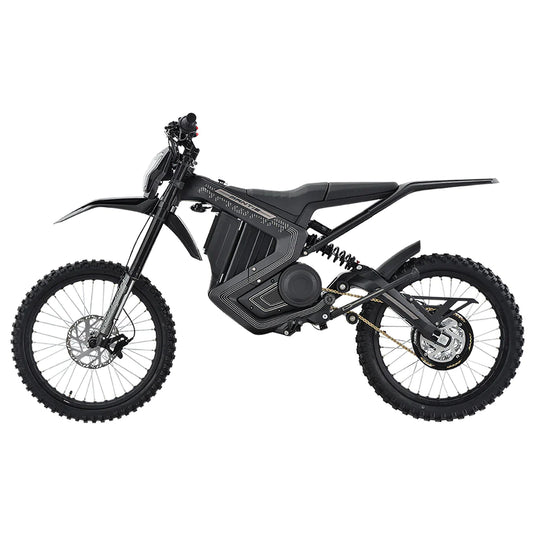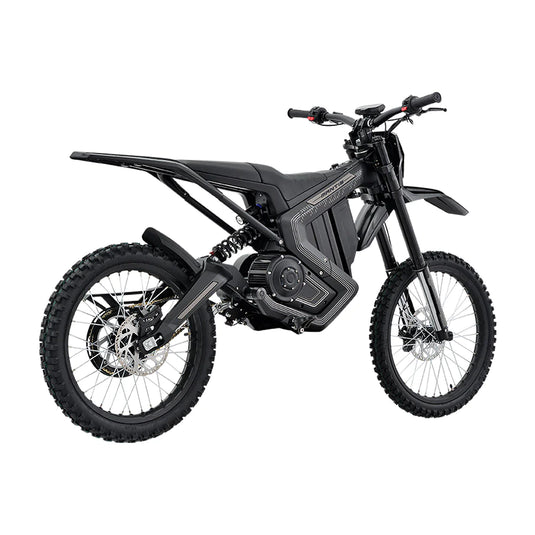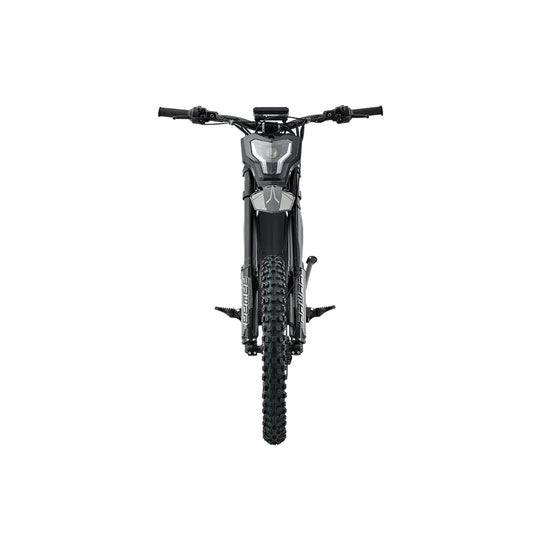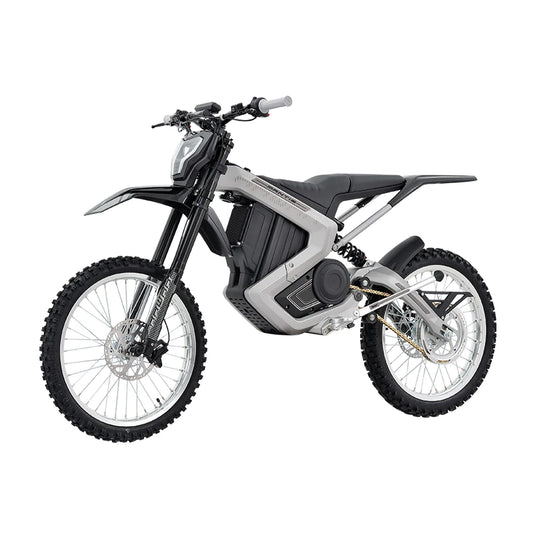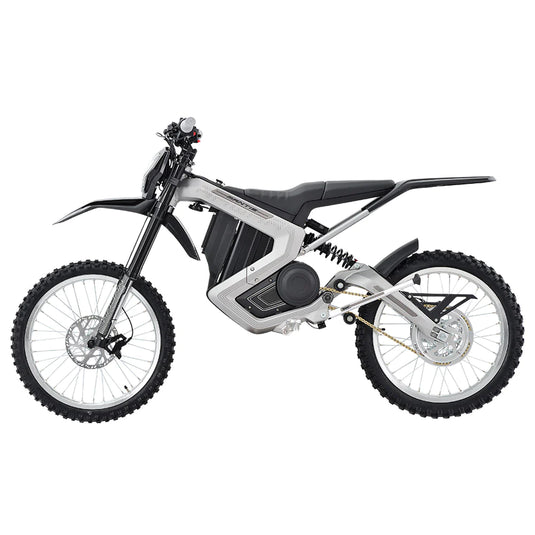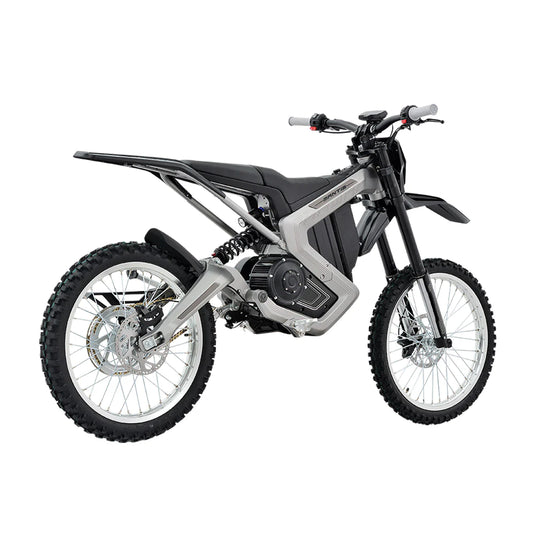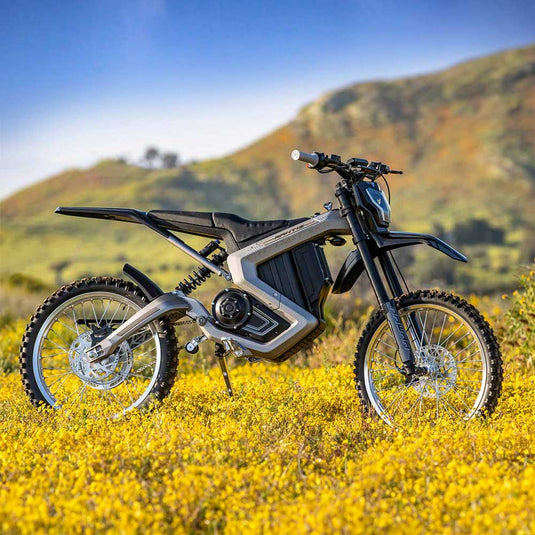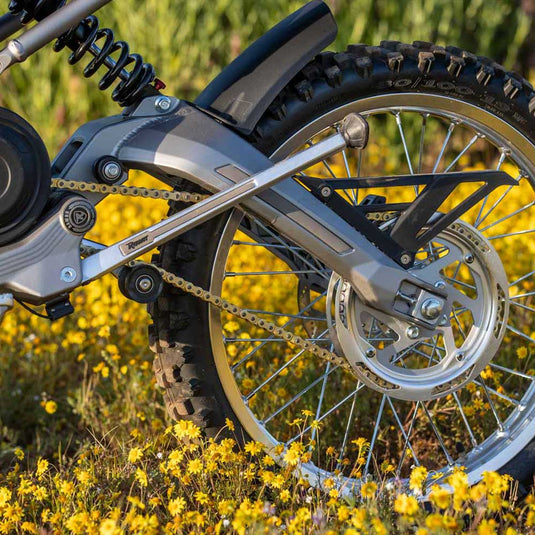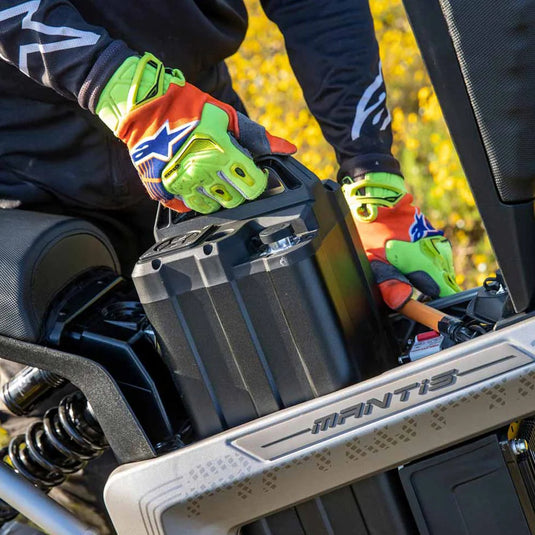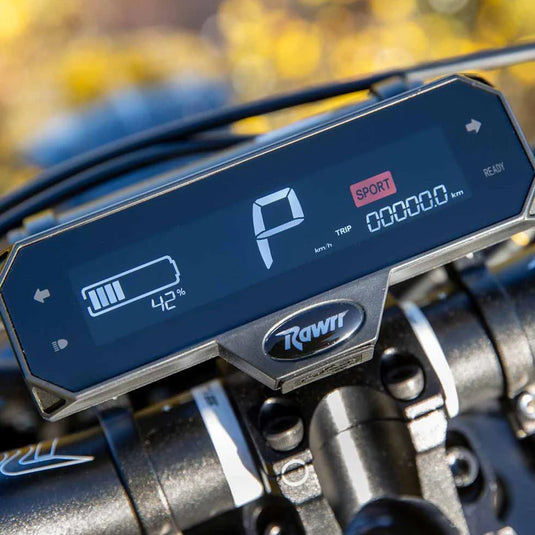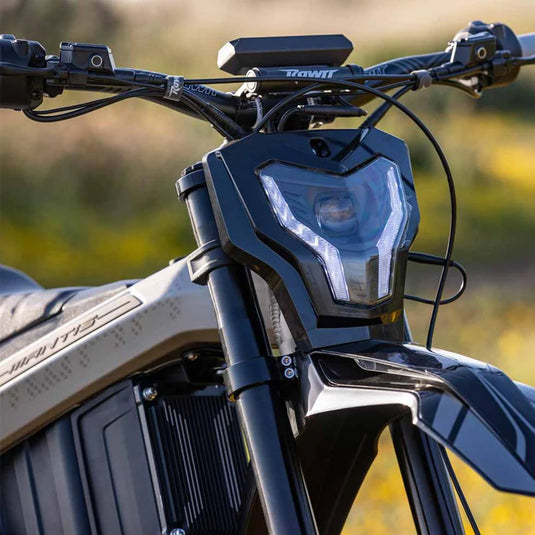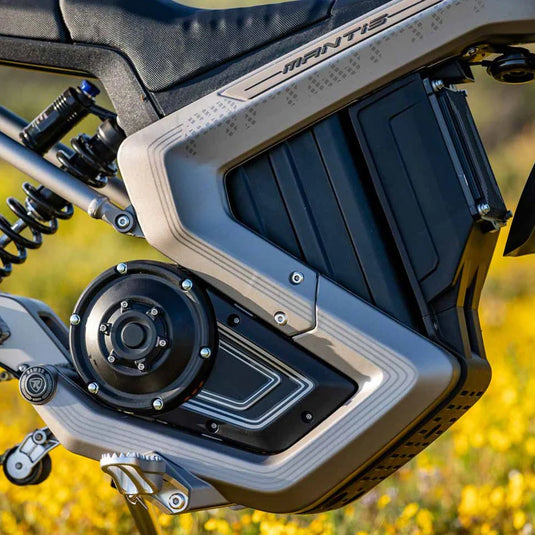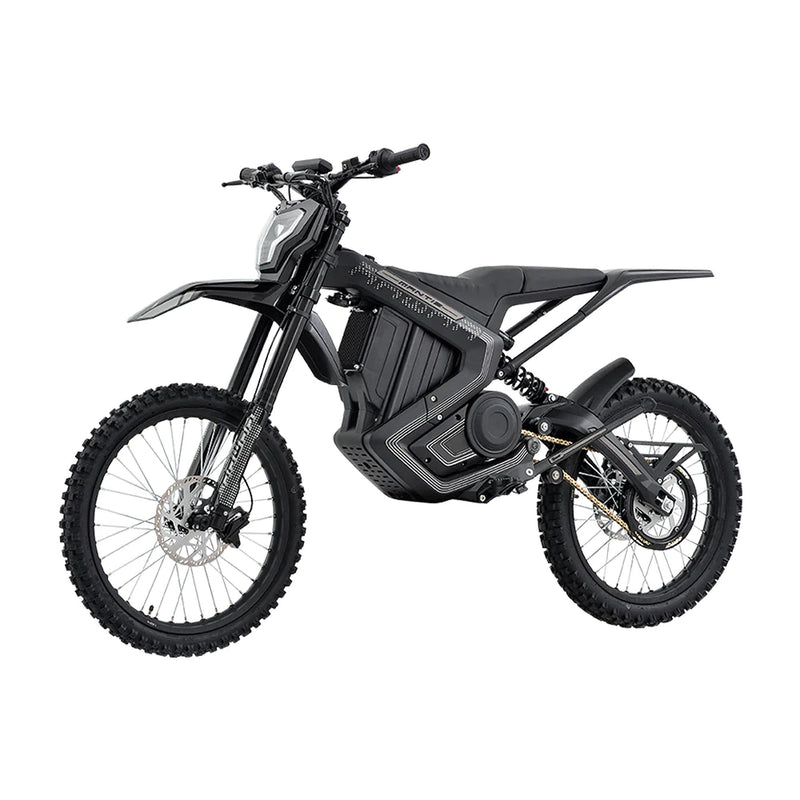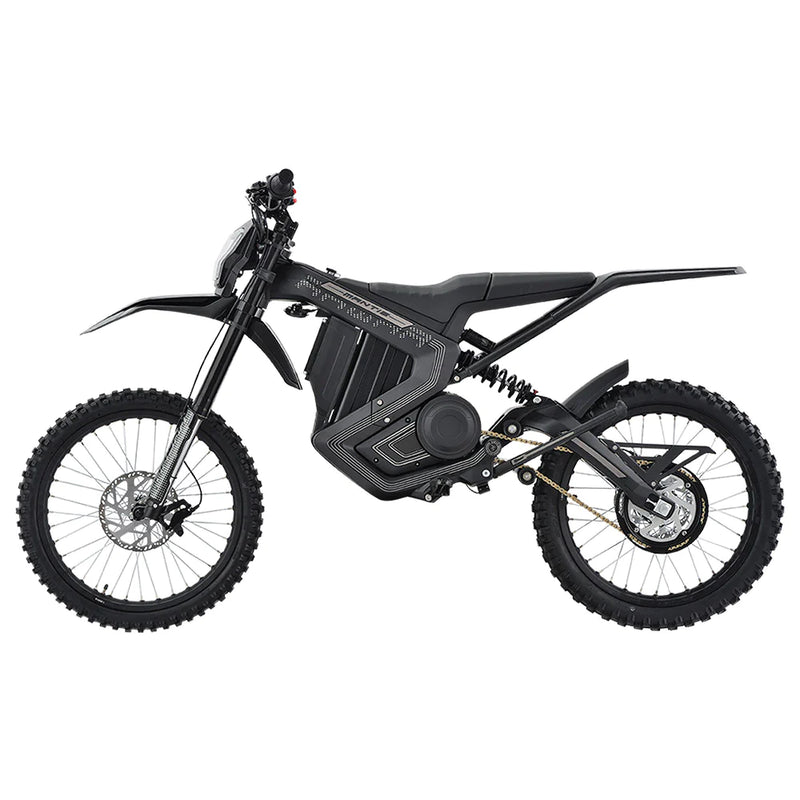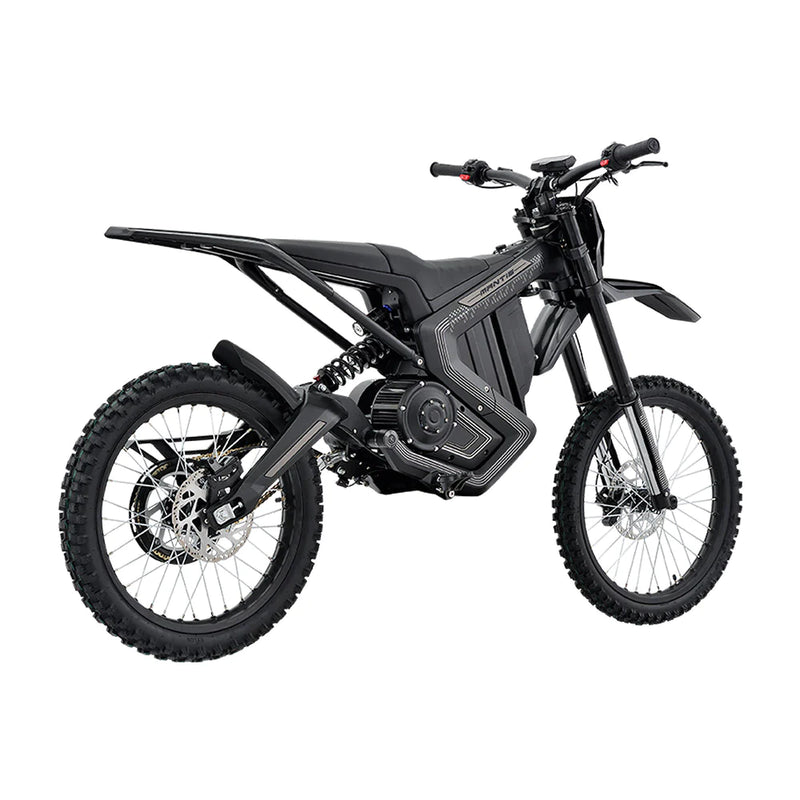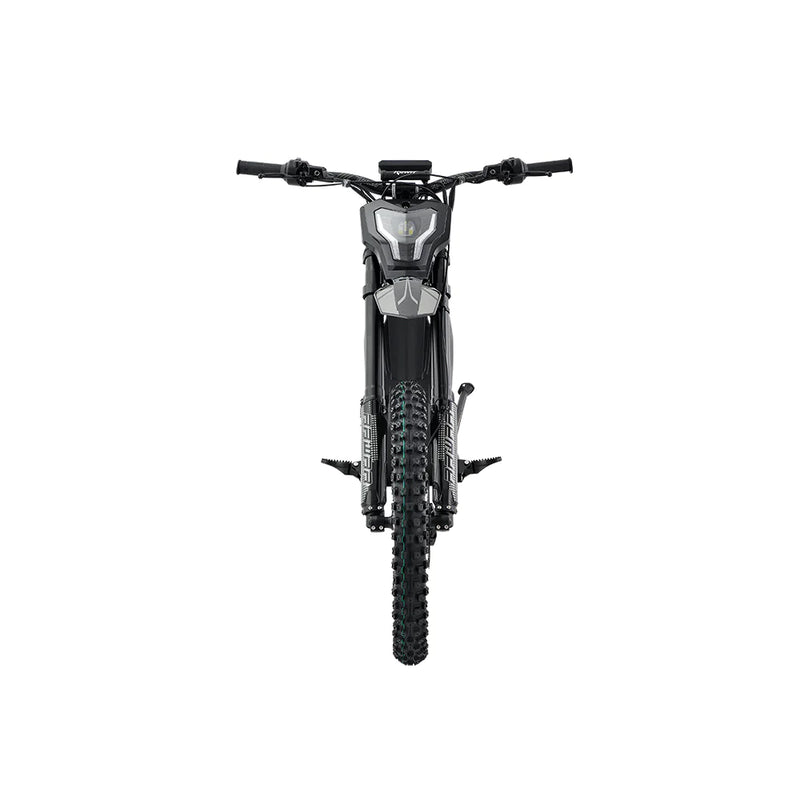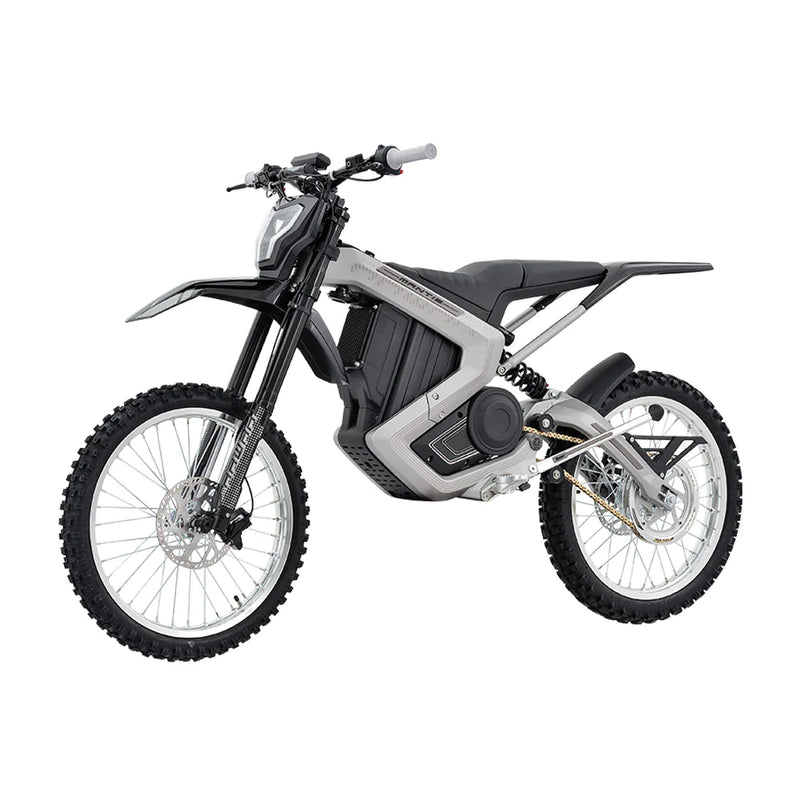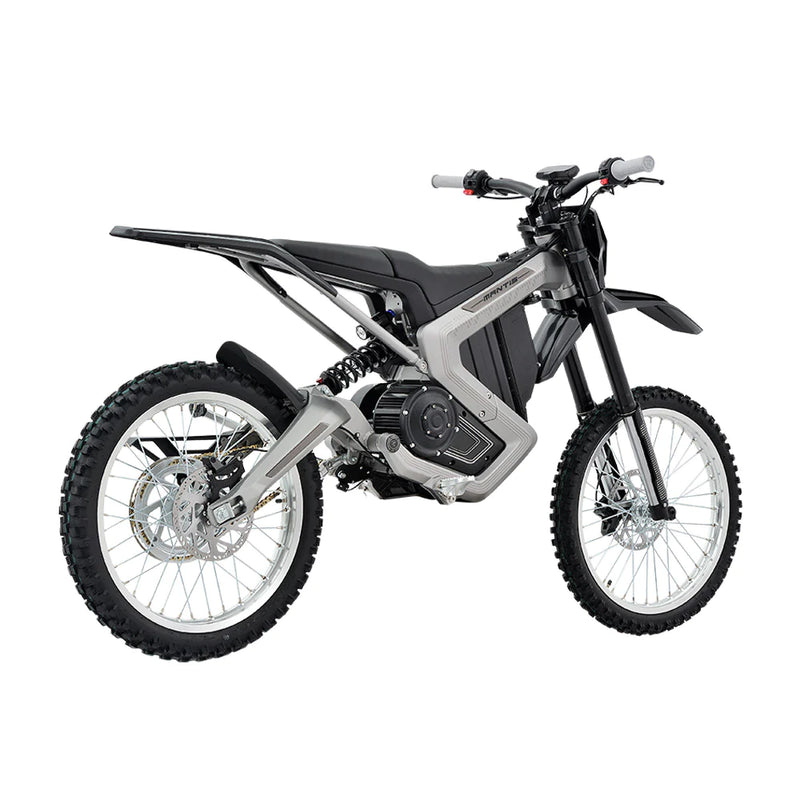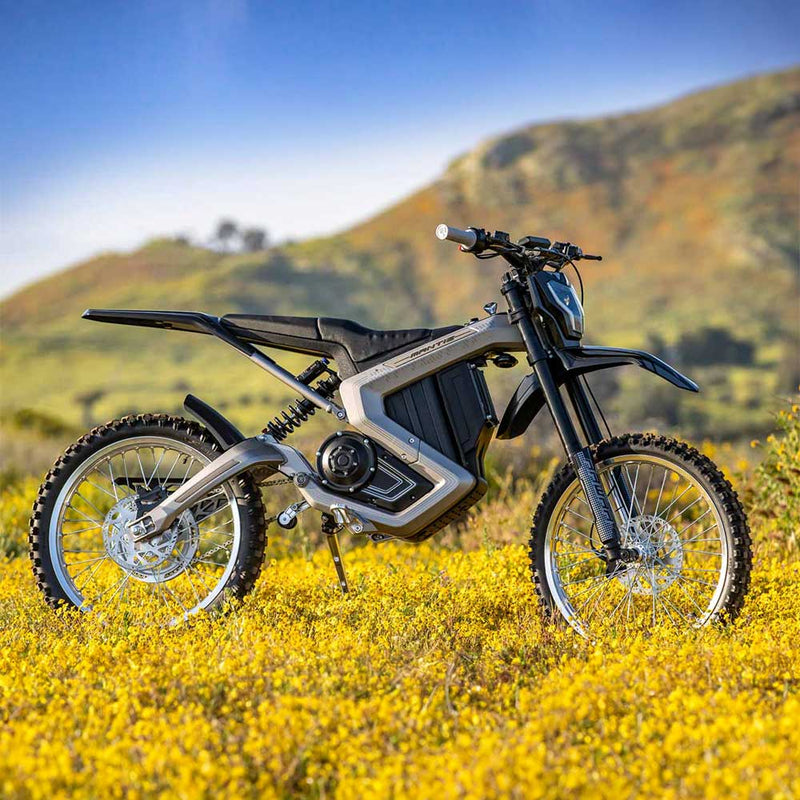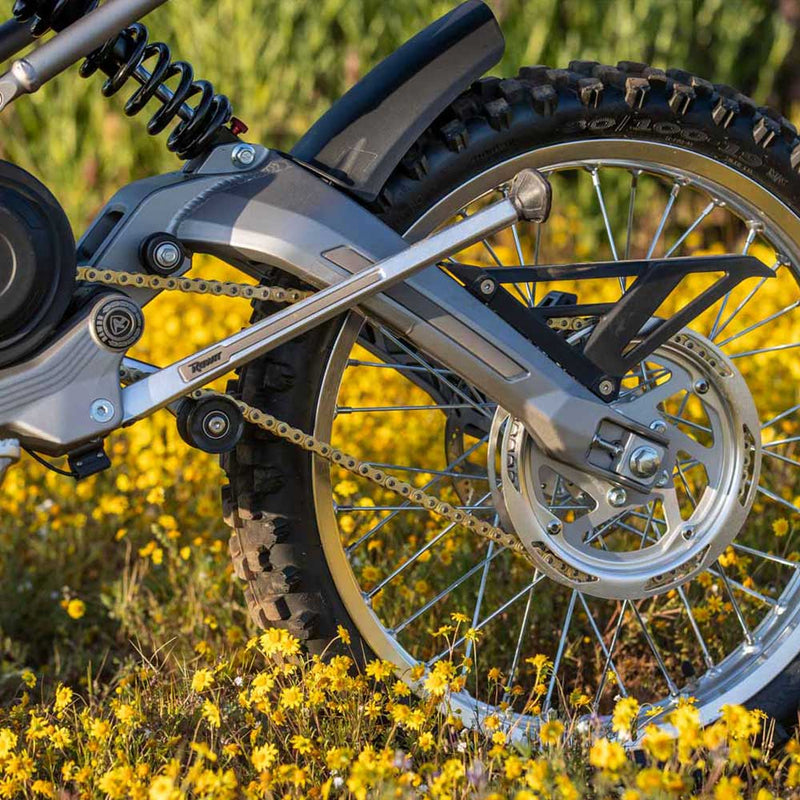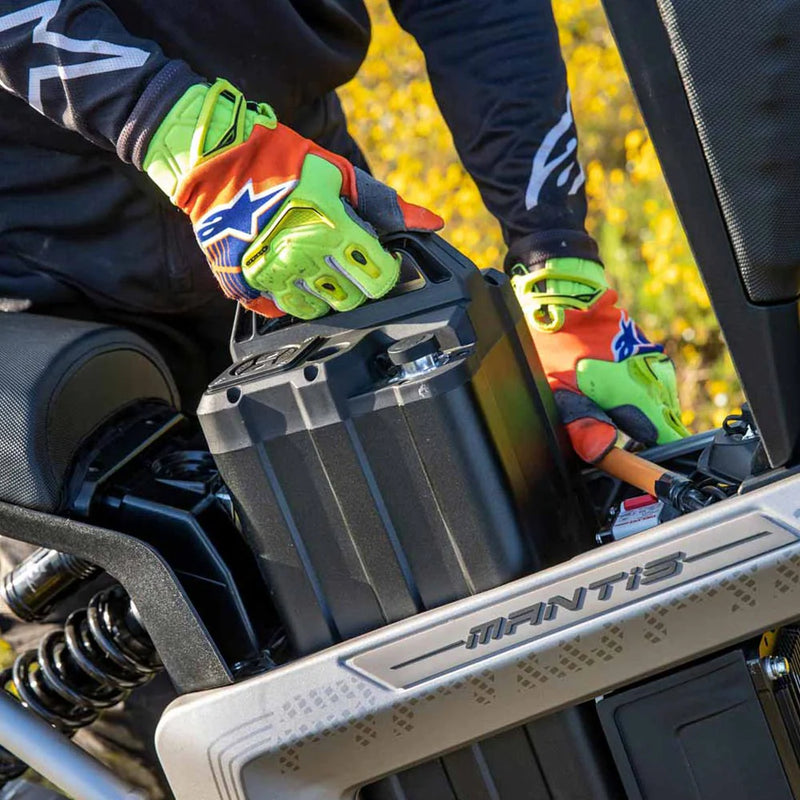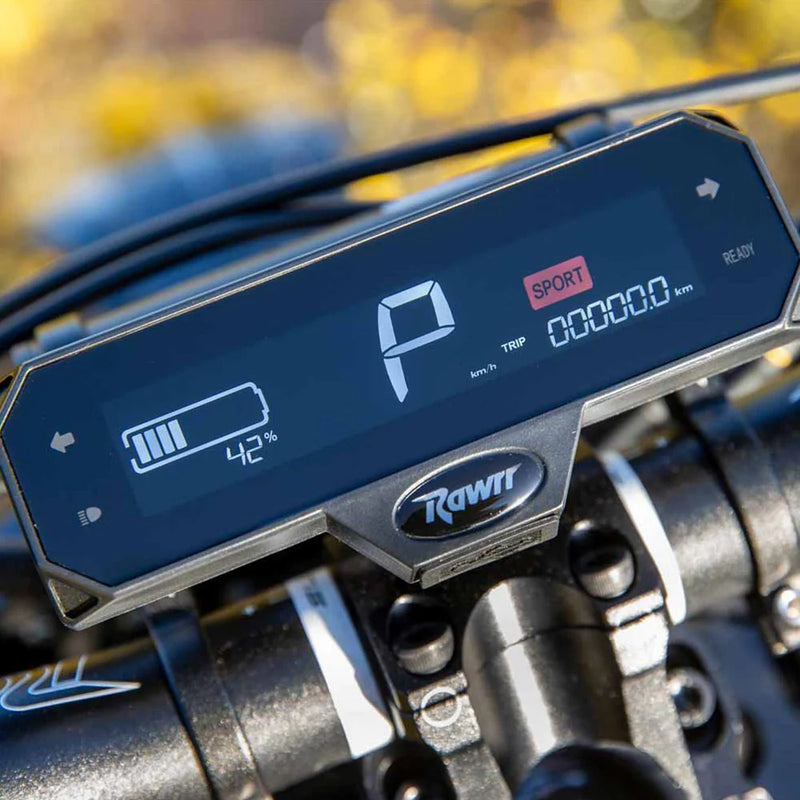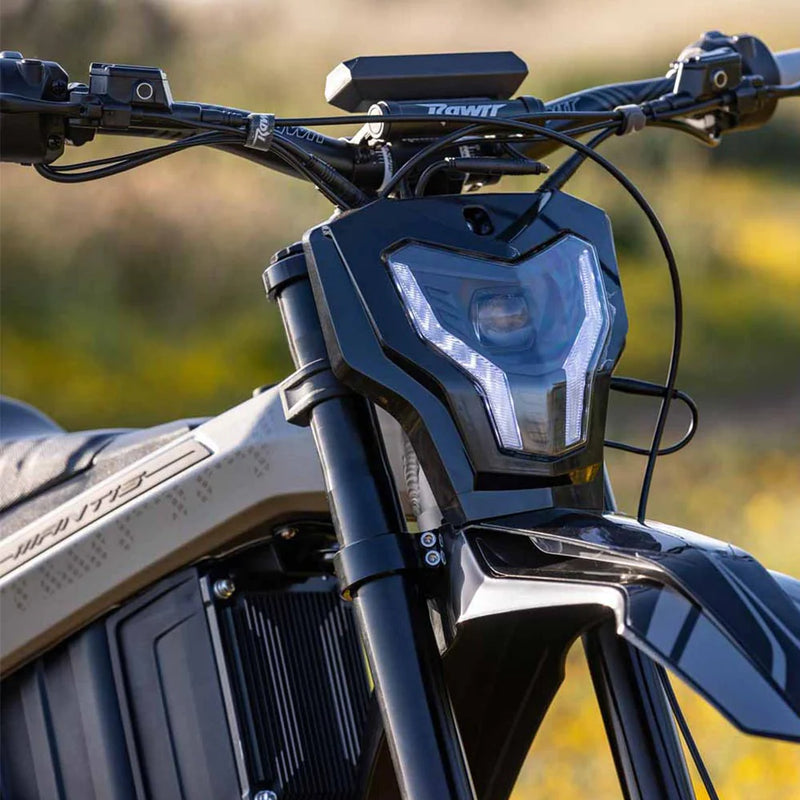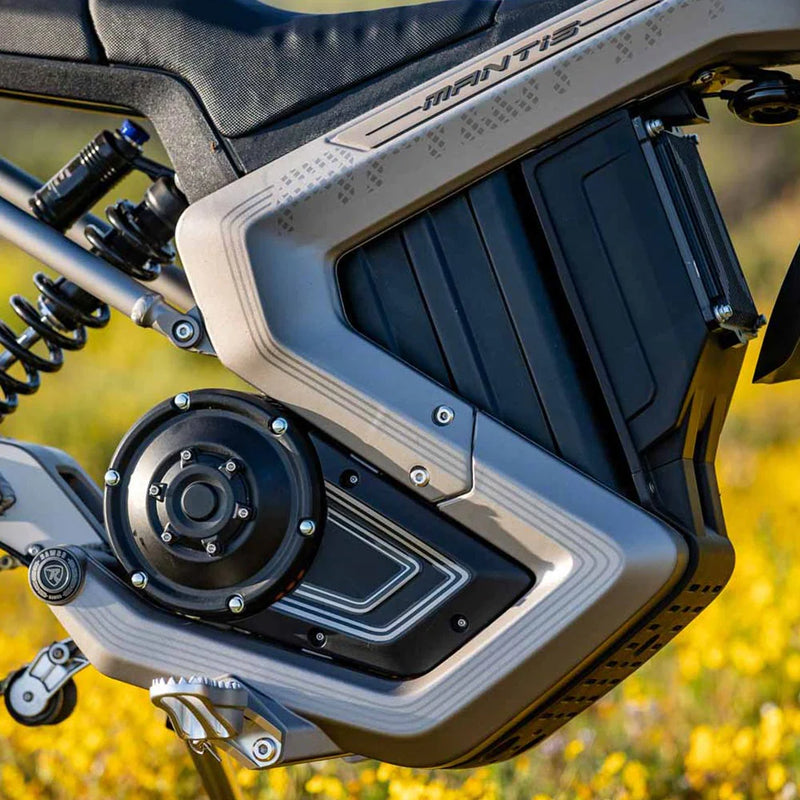 The 72V Rawrr Mantis Electric All-Terrain E-Moto is the ultimate choice for adventurers and thrill-seekers who want to conquer any terrain easily. With its high-performance features and advanced technology, this bike is designed to take places you never thought possible.
Unleash the Power with 72 Volts
Unveiling the newest powerhouse from Rawrr, the pioneers of lightweight-electric, off-road motorcycles. Boosting power and torque by 20%, this Mantis version takes excitement to new heights. Brace for an electrifying journey with enhanced features that redefine adventure!
The Rawrr Mantis with a swappable 72-volt, 35-amp battery pushes the boundaries, catapulting the Mantis into the league of the fastest eMotos available. The increased power and torque ensure that riders can navigate rugged terrains with even more power, truly unleashing the power to rip anywhere!
FEATURES
72V Battery: The Mantis uses the latest, advanced Samsung 21700 battery cells, which lead the industry in technology, performance and safety.
7500W Motor: The 7500W peak power provides more power and torque. This is more than the other e-Motos in our category.
50 N.m Torque: This is class-leading torque for exceptional acceleration and climbing ability.
Thicker Aluminum Frame: Our frame has undergone 50,000 jump tests and 20,000 kilometers of riding tests. It is 40% thicker than other brands and undergoes CNC-integrated processing. While this does increase the overall weight of the bike, it greatly reduces the risk of frame fractures. This allows the Mantis to withstand more aggressive off-road terrain and obstacles.
Steel Suspension Internals: Other brands use aluminum shafts for the suspension system to reduce weight. The Mantis uses more expensive, durable steel suspension internals, eliminating the suspension failures that the other e-Motos experience.
Fully Encased Battery: A crucial, differentiating feature of the Mantis—its battery is fully encased. It makes it four pounds heavier than batteries from other brands, but it significantly improves heat dissipation efficiency and effectively prevents battery fires.
Motorcycle Style Stem: The motorcycle handlebar stem provides better stability and durability and is adjustable for height and fore/aft placement, allowing riders to find the most comfortable riding position. Other brands use bicycle handlebar stems, which are far less stable and cannot be adjusted.
Shock-Absorbing Battery Compartment: The battery compartment is equipped with a shock-absorbing design, ensuring the battery's stable placement inside the compartment and providing smooth and easy retrieval. Other brands lack this and suffer from significant battery rattle off-road.
IP67 Waterproof Structure: The Mantis is designed with total waterproofing, including wiring, battery, and motor, allowing it to easily handle most off-road water situations and withstand pressure washing.
App-Controlled Tuning: Rawrr is the only brand in the market that offers controller adjustments through an app. Our app's features will continuously be advanced. In the forthcoming Mini Mantis for kids, parents and users can control the bike's maximum power, starting with the simplest mode for training and gradually increasing until their skills warrant a full-power mode. The Mantis app will provide hundreds of adjustable riding mode combinations, allowing users to customize their favorite riding mode according to personal preferences and riding conditions.
Swappable Battery: The Rawrr Mantis battery can be removed and replaced with another in less than 30 seconds. One battery can be charging while another is being used for riding.
Over-the-Air Software Updates: Our app will continuously receive updates and be compatible with all future models.
Reverse System: Rawrr is the only brand in the e-Moto category that offers a reverse system, which can help riders move their motorcycle around or get out of tough, technical situations off-road.
Anatomic Dimensions: The bike's dimensions of 1935 x 795 x 1120mm are more suitable for adult body sizes and the off-road needs of riders. A ground clearance of 310mm improves off-road capability, while a 1290mm wheelbase greatly enhances stability at high-speed.
Increased Load Capacity: The overall design of the bike is more in line with adults and larger body sizes. Compared to other e-Moto brands, the Mantis can carry an additional 20% weight without affecting the overall riding experience.
Longer Rear Fender: We have developed a longer rear sub-frame to integrate a traditional off-road motorcycle fender providing protection to the rider and motorcycle from dirt/rock roost, mud and water. If riders do not prefer it, a shorter mudguard is an option. 
SPECS
Vehicle Weight/W Battery:
130lbs/165lbs
Rear Shock Absorber Stroke:
75mm
Tire Size (Front):
70/100
Brake Type:
Hydraulic Disc Brake
Controller Type:
Mantis FOC Controller
Front/Back Disc Brake: 203mm
Top Speed: 50MPH
Max Torque for driving wheel:
459NM
Energy Recovery:
EABS Brake