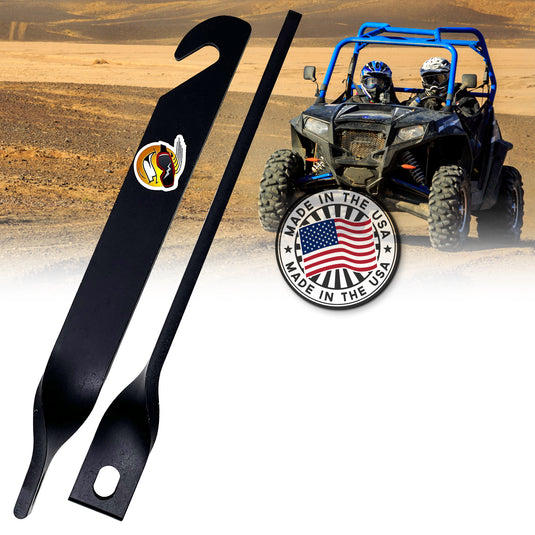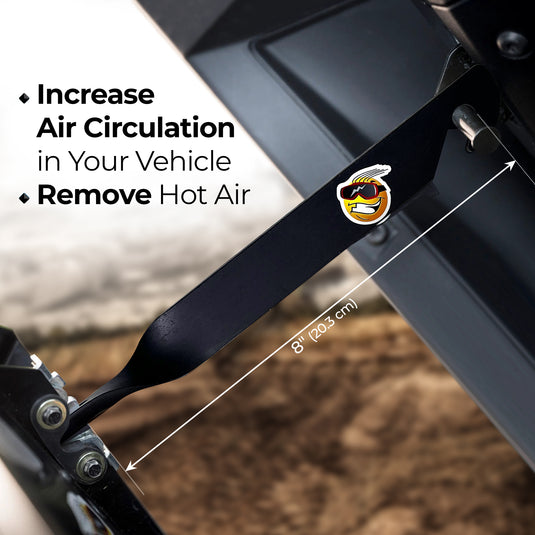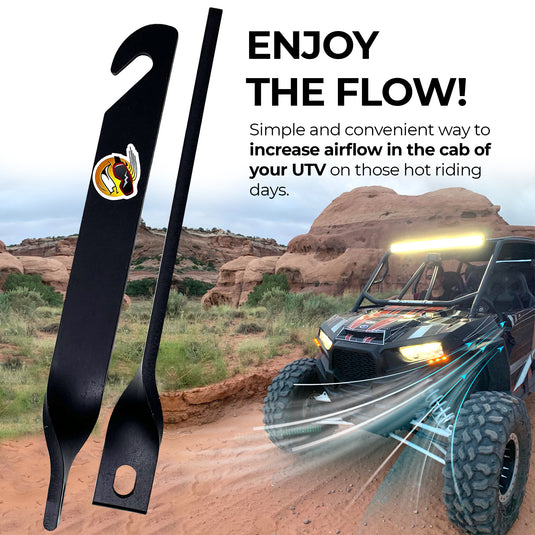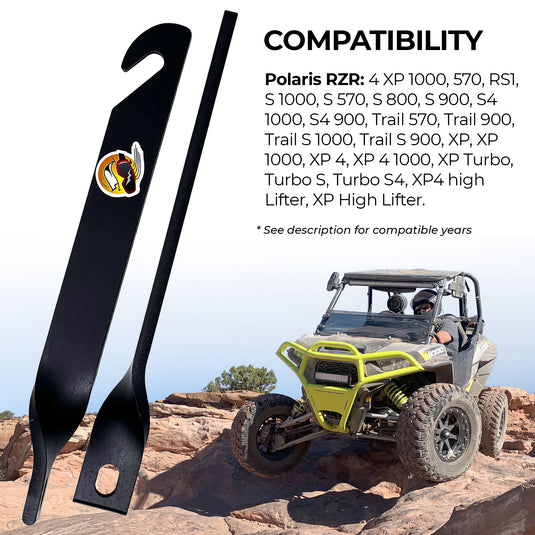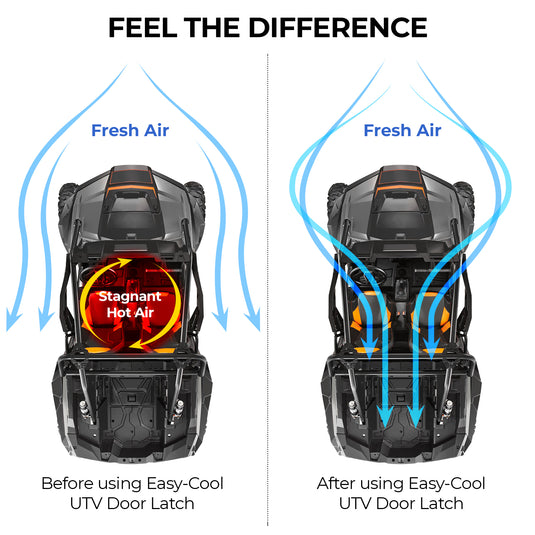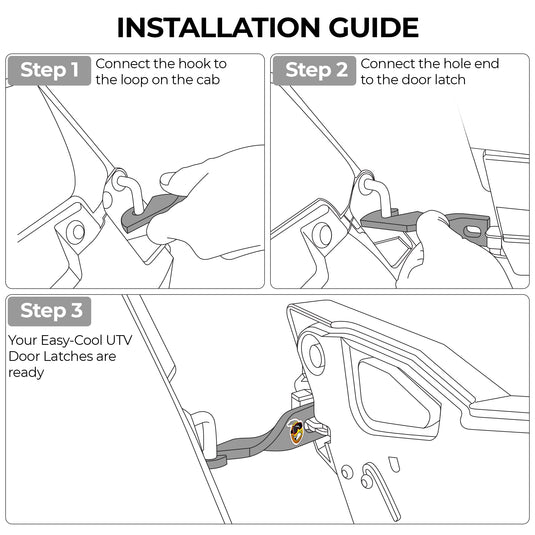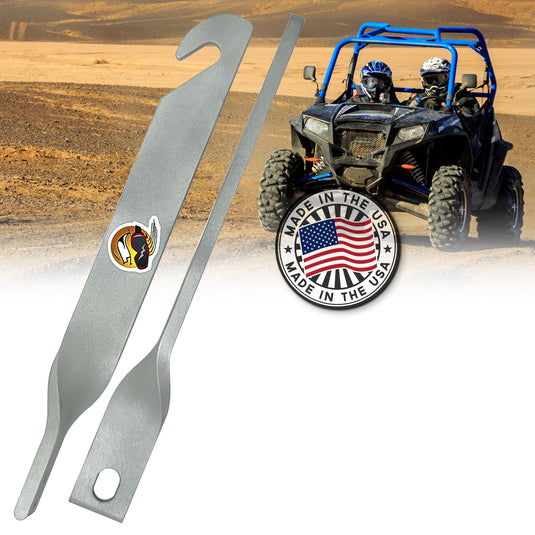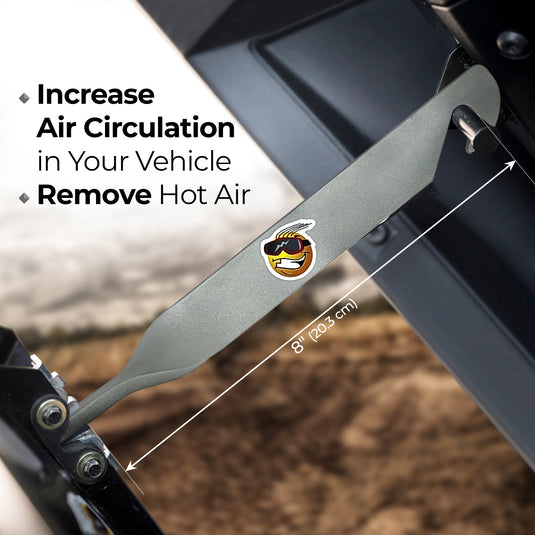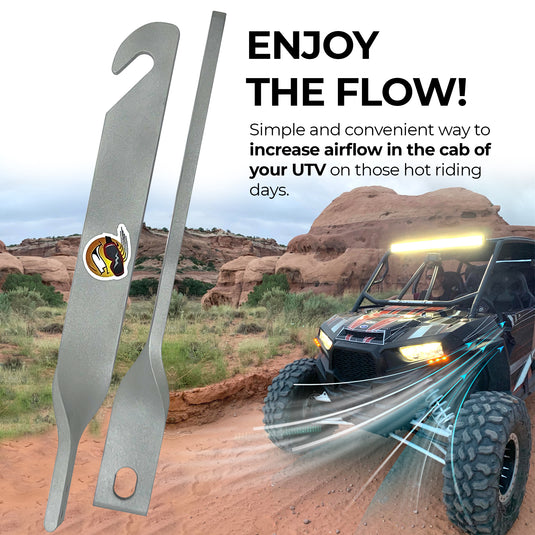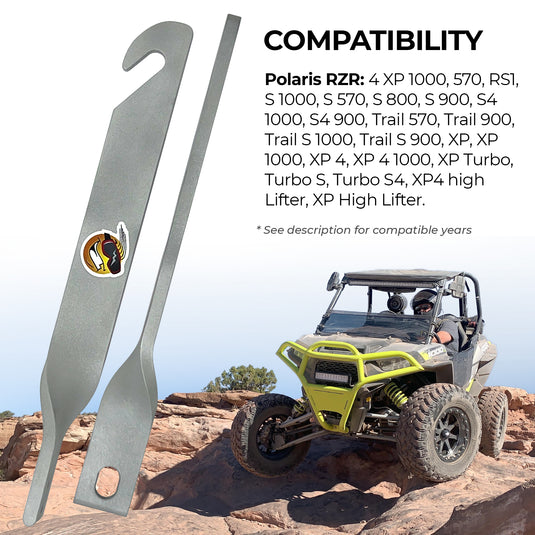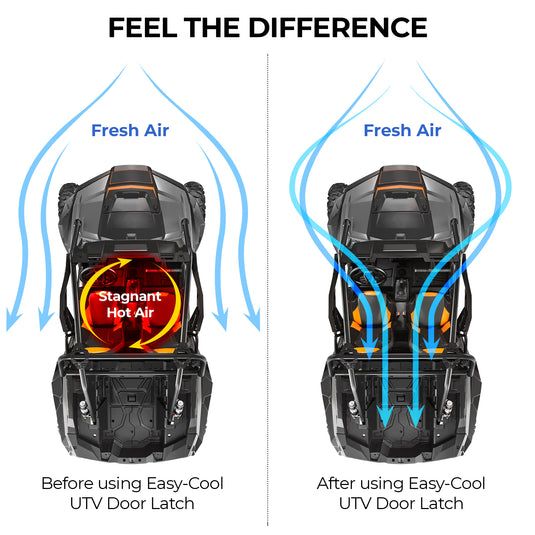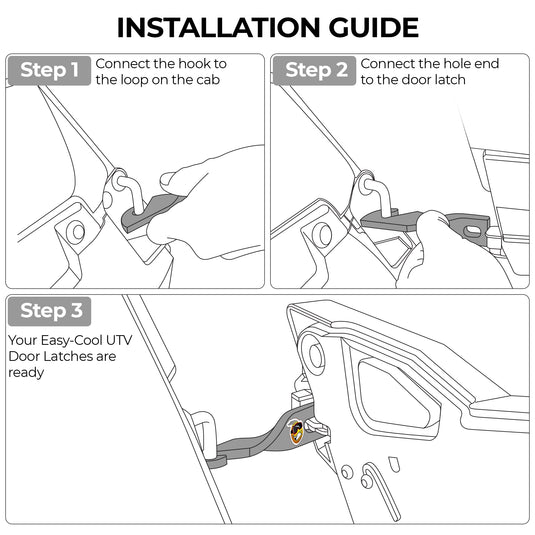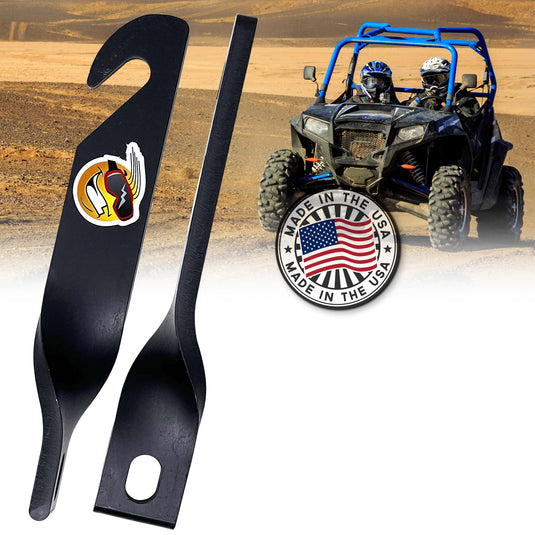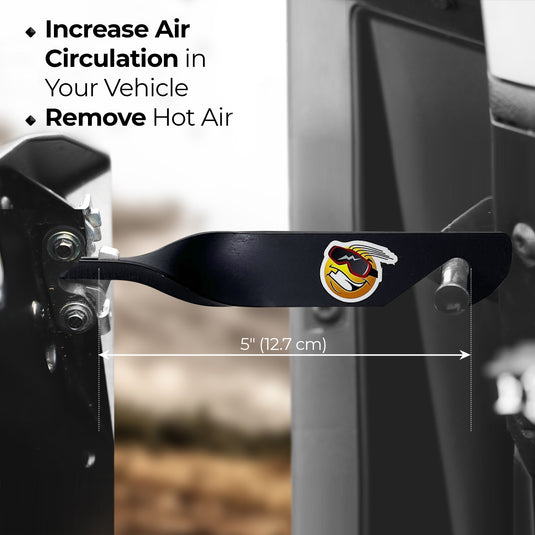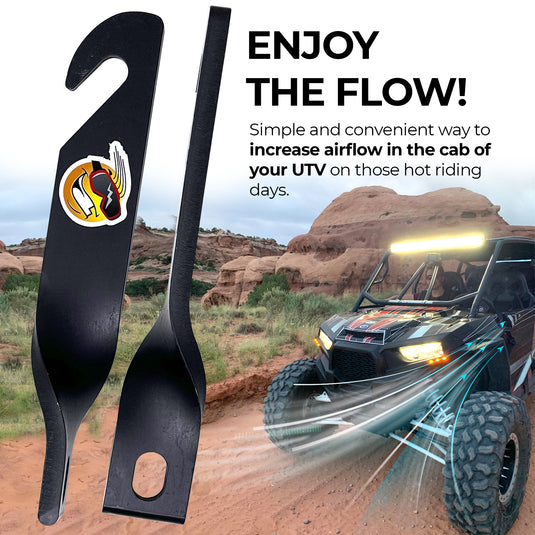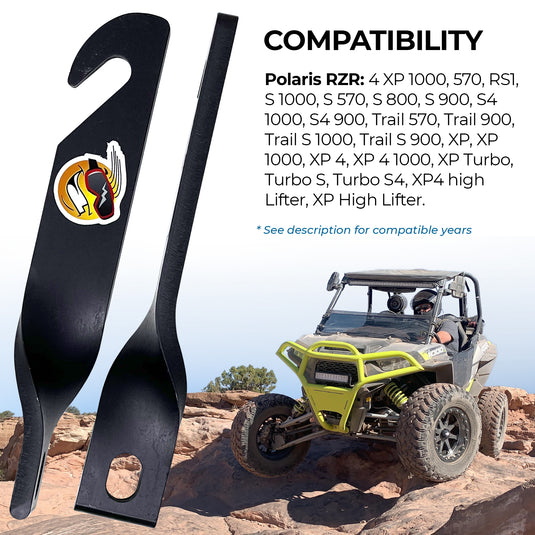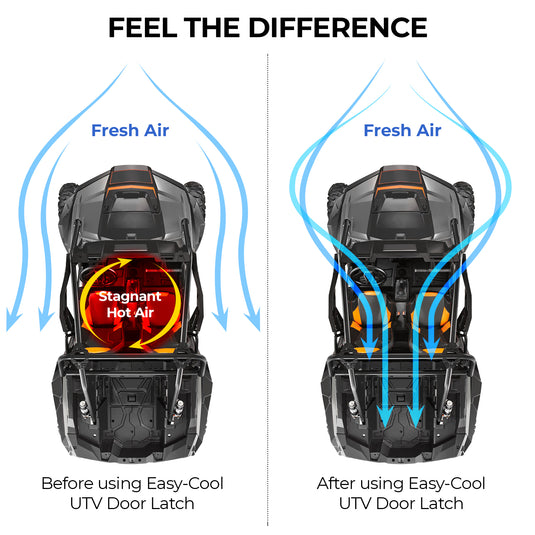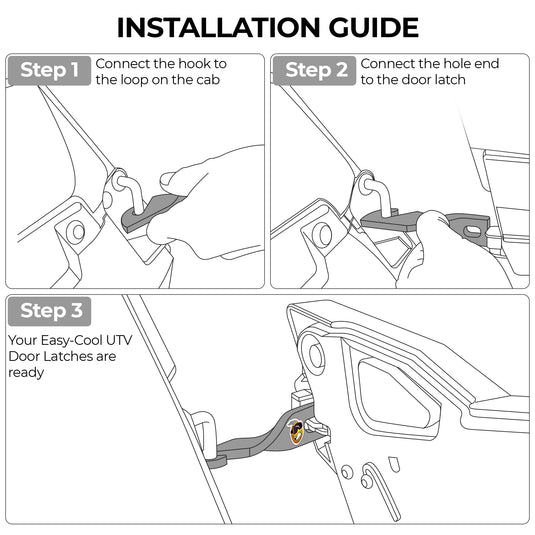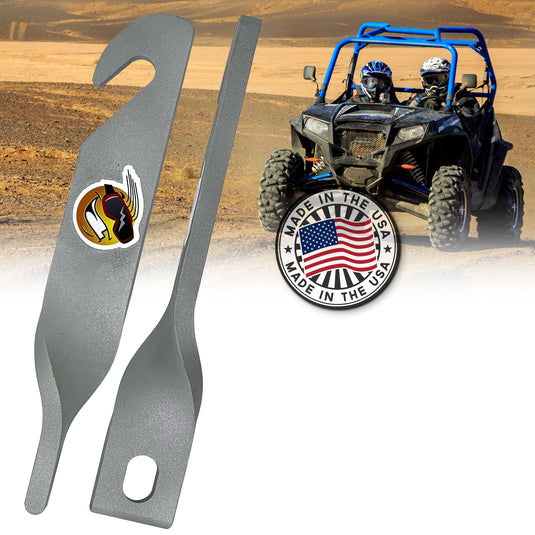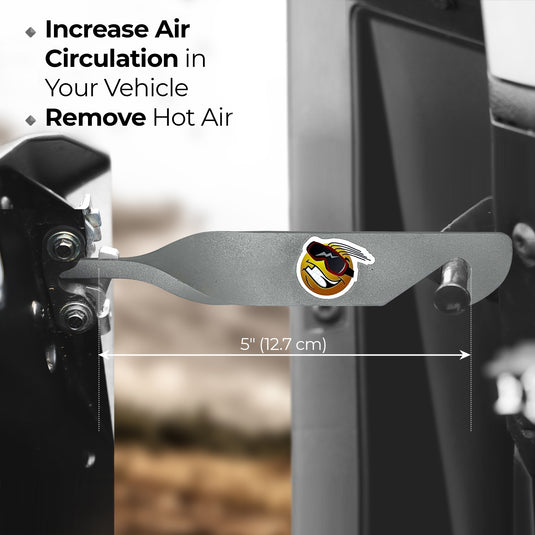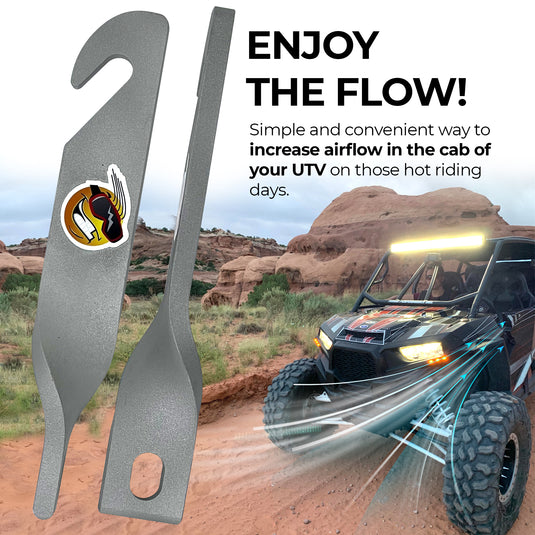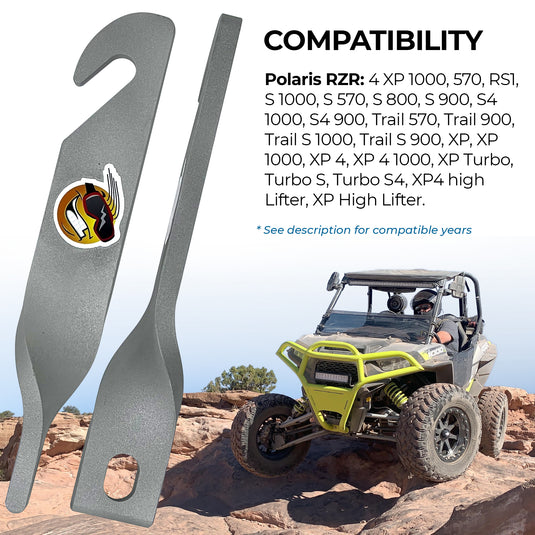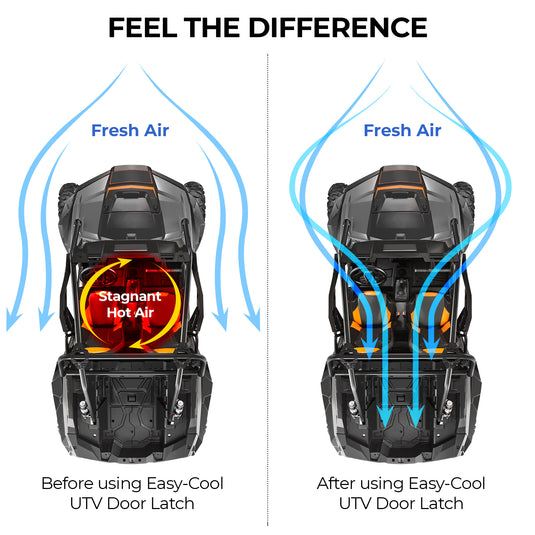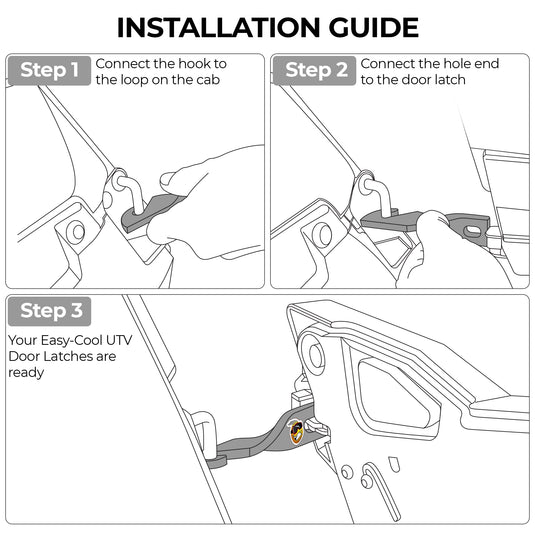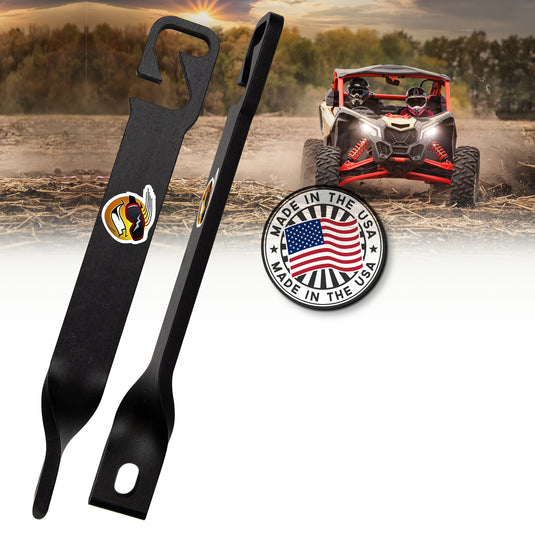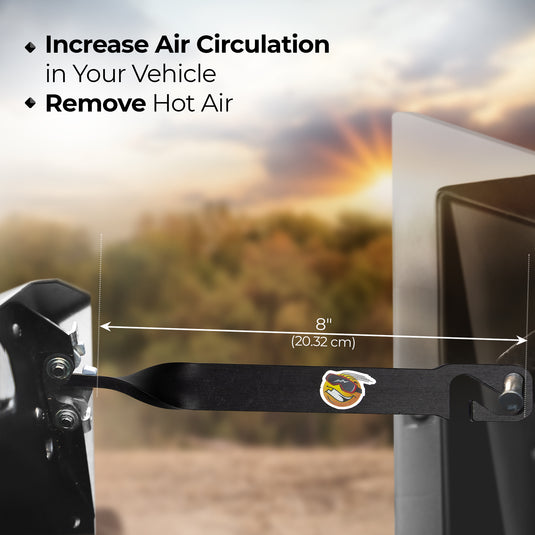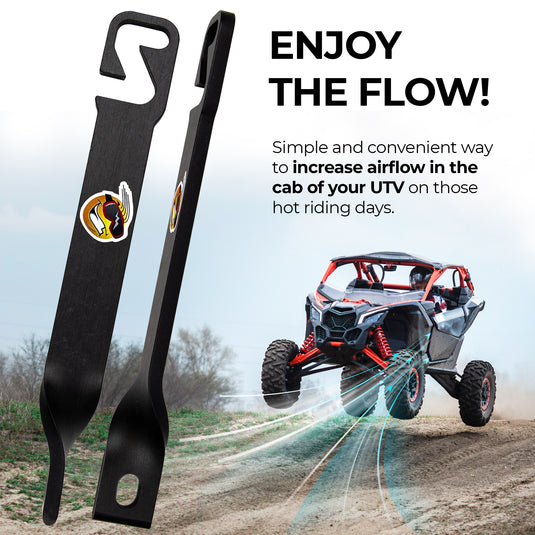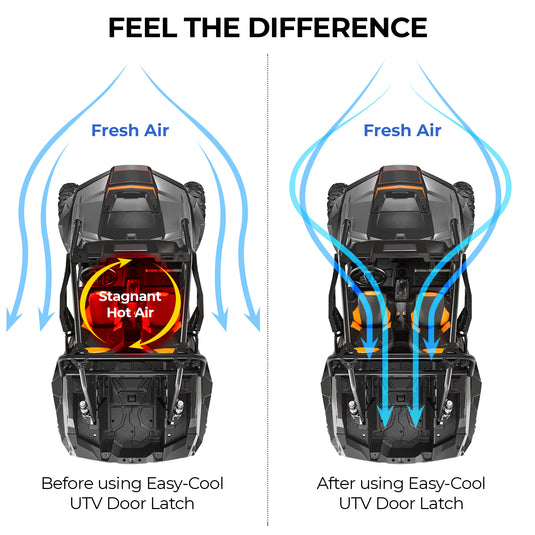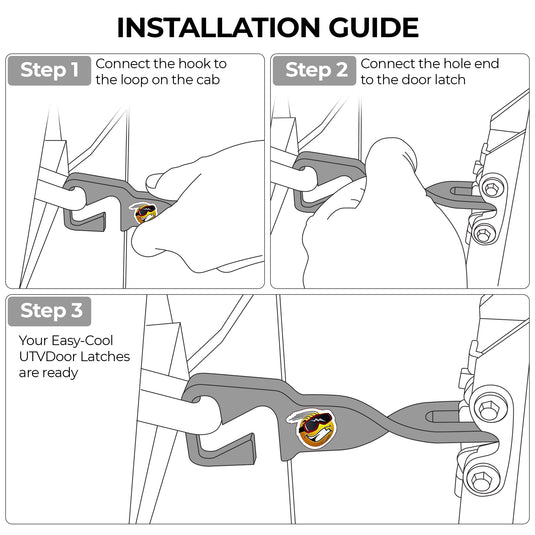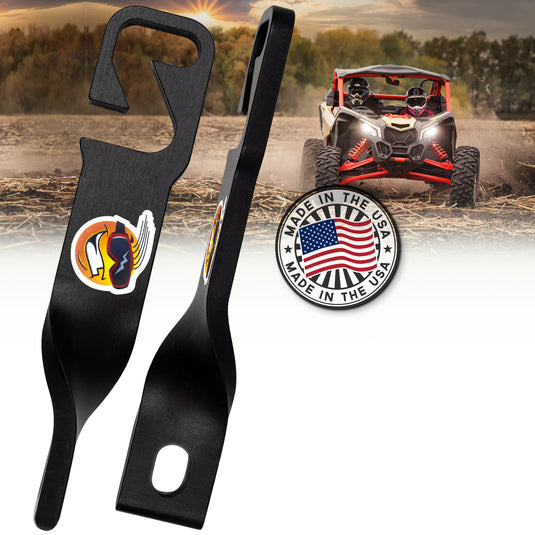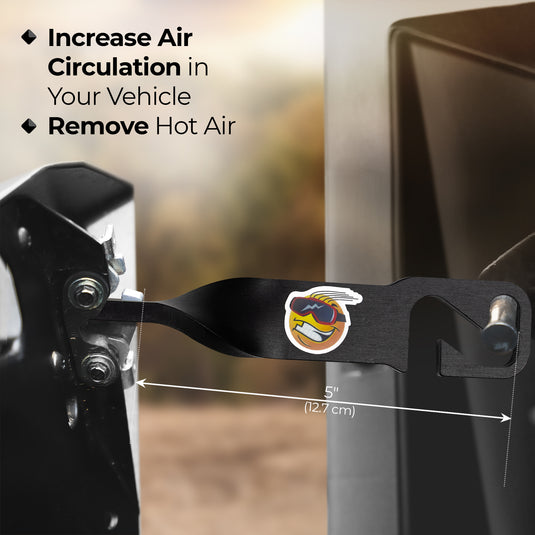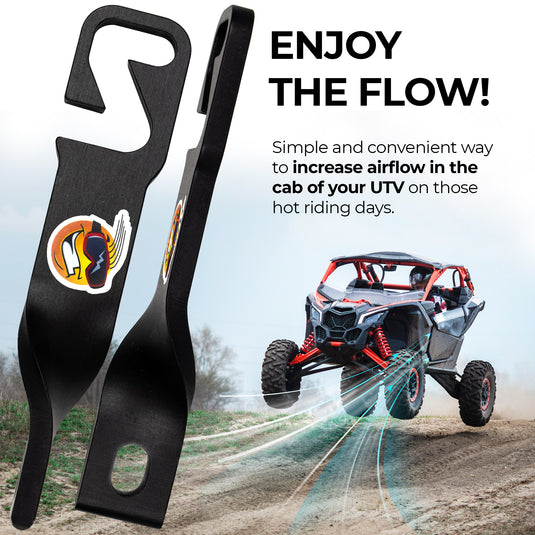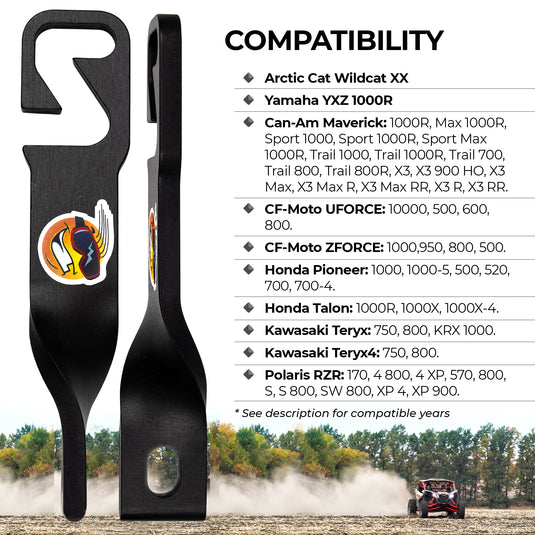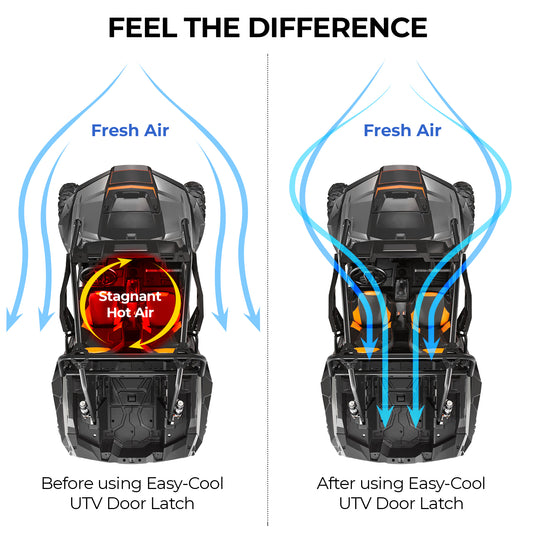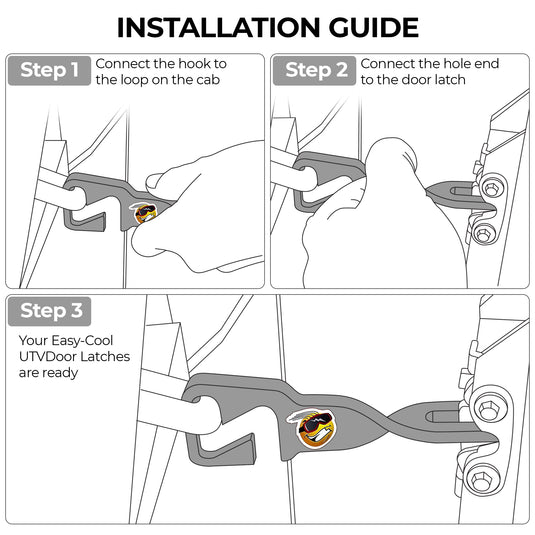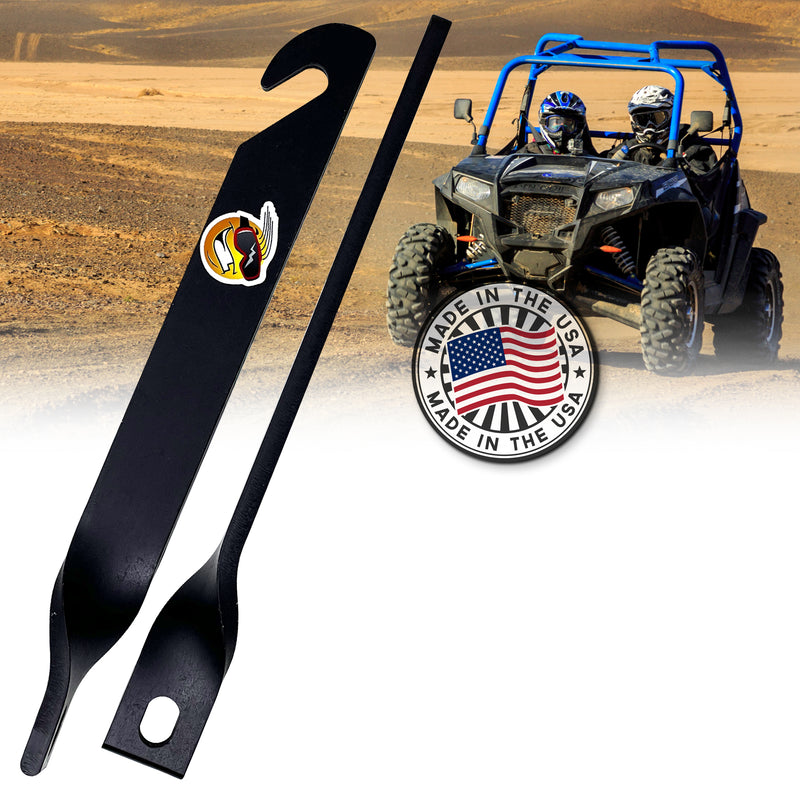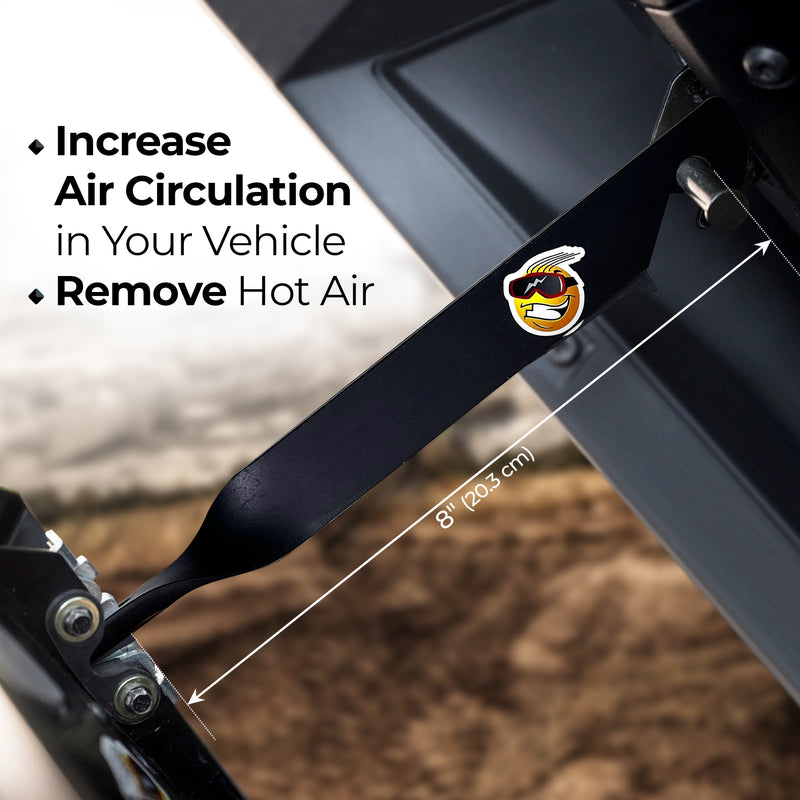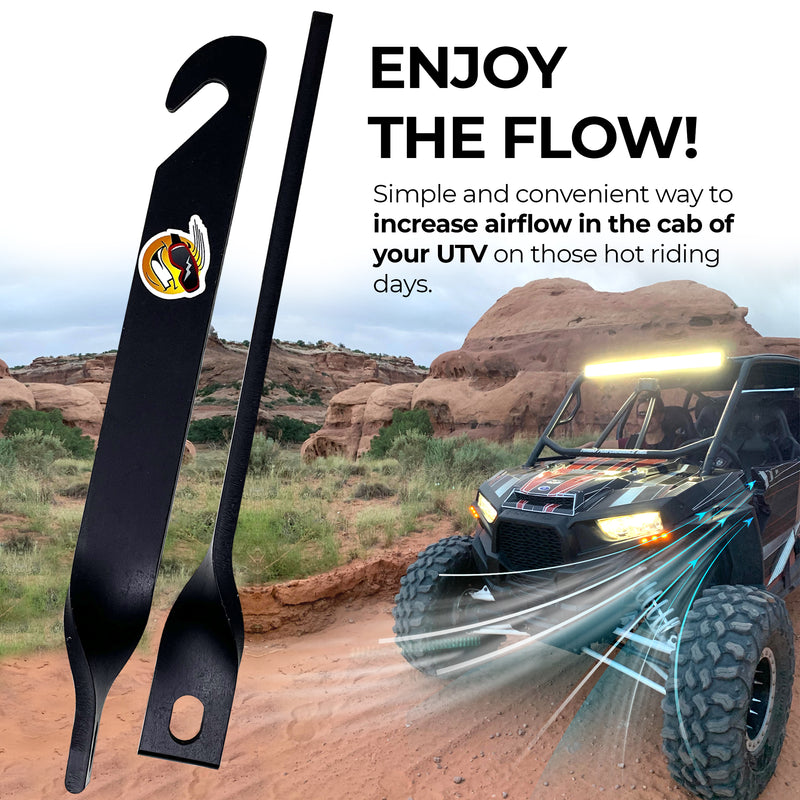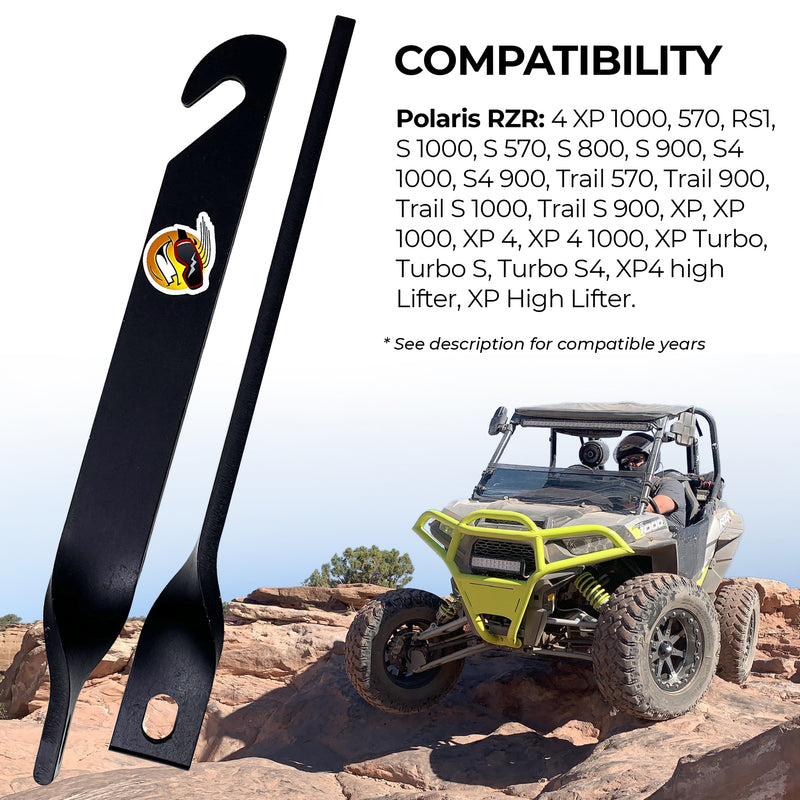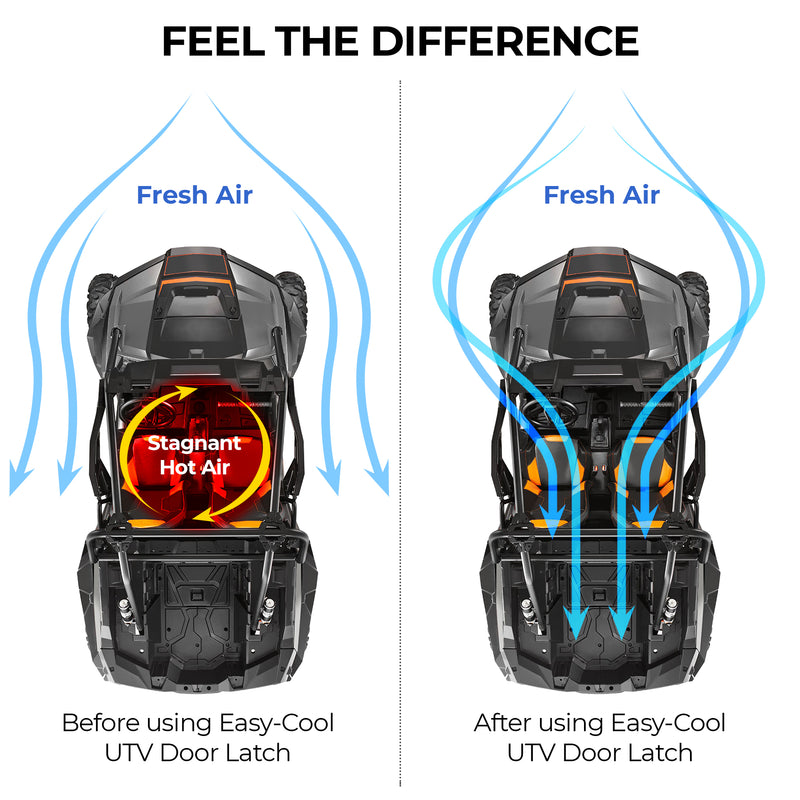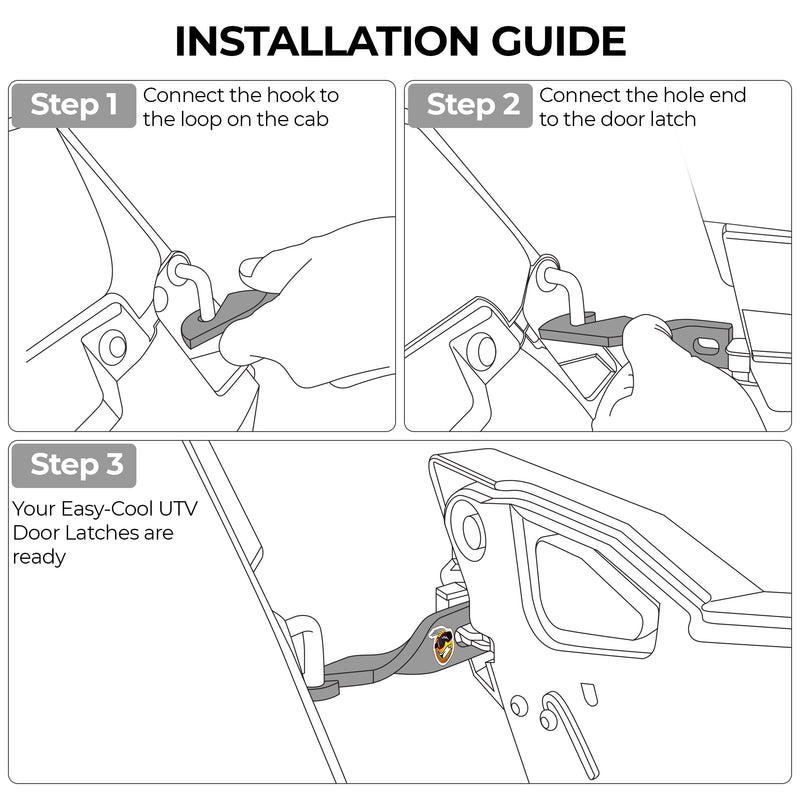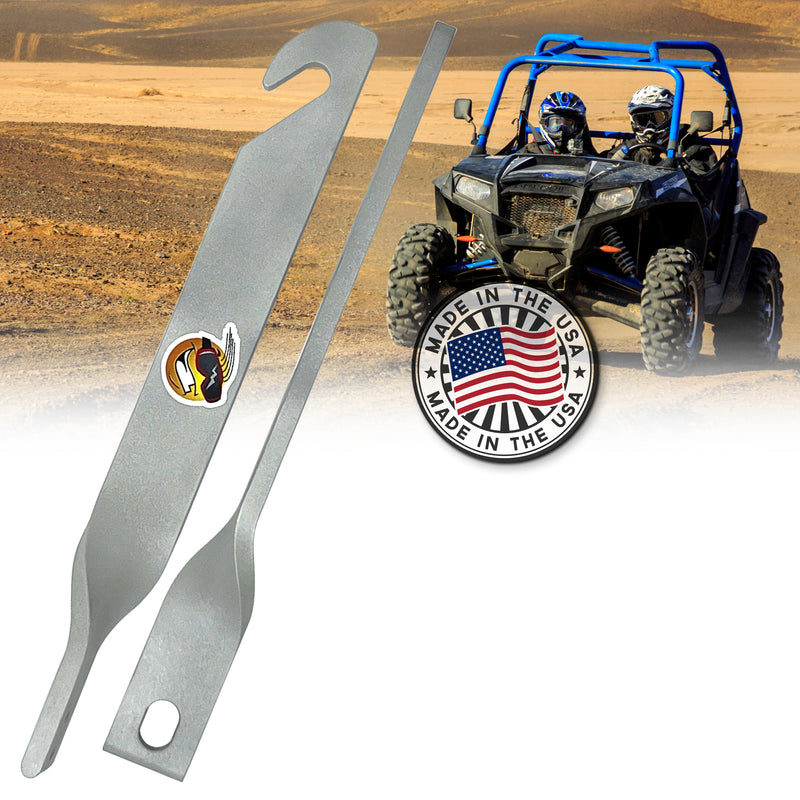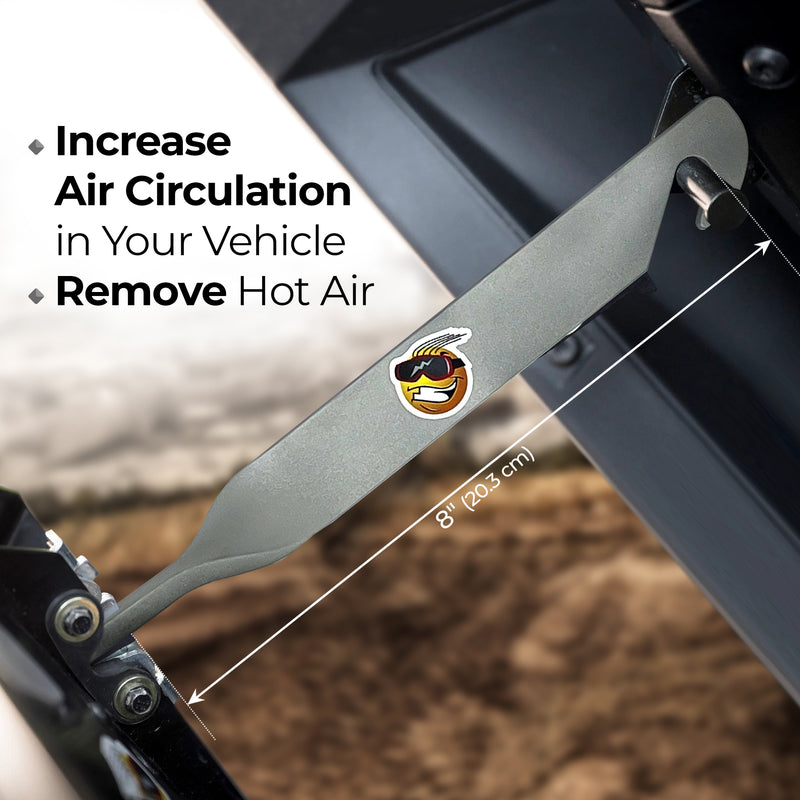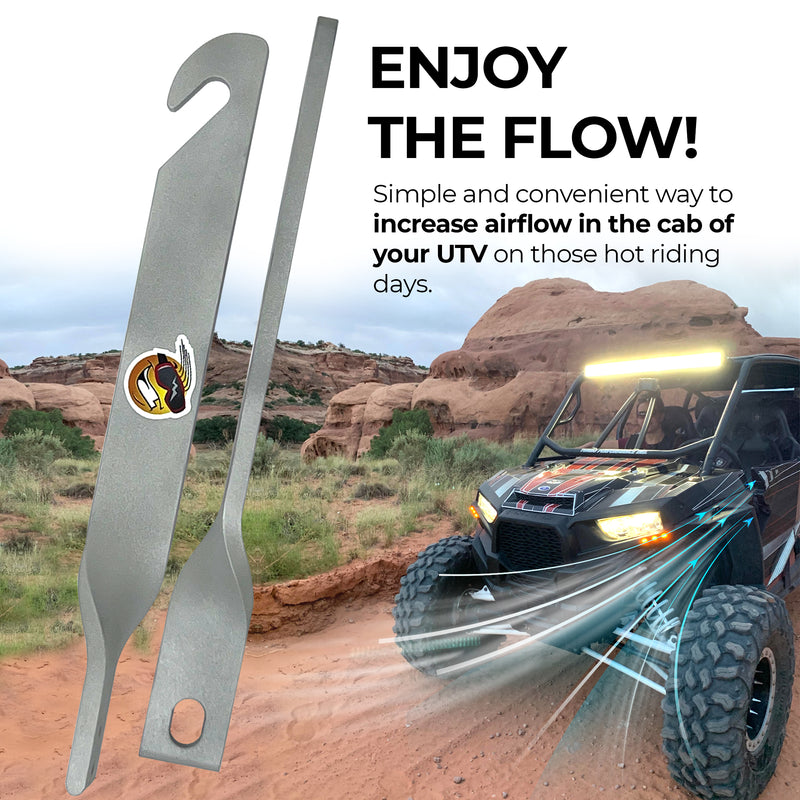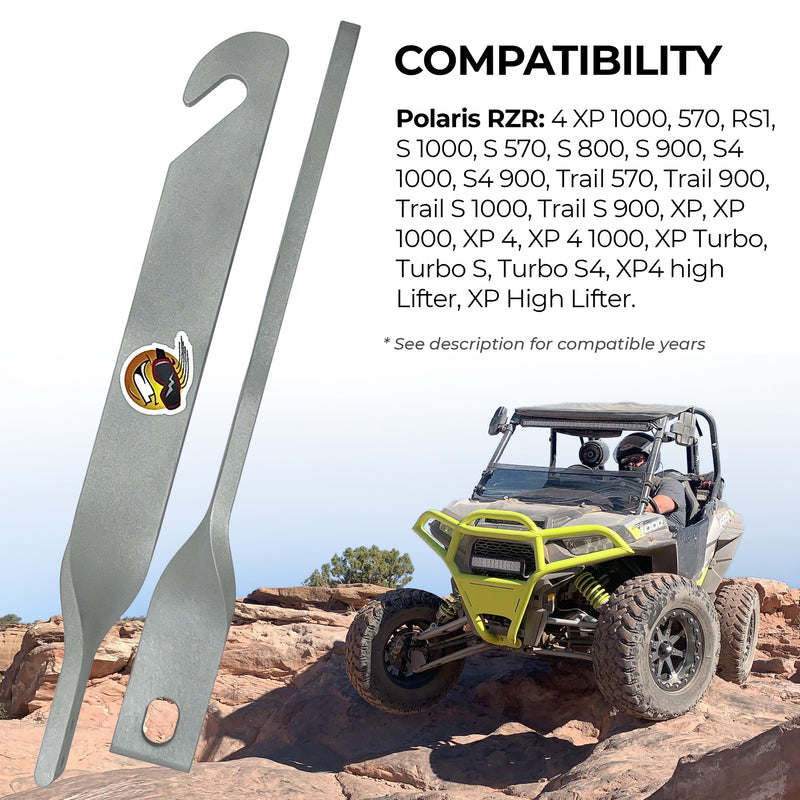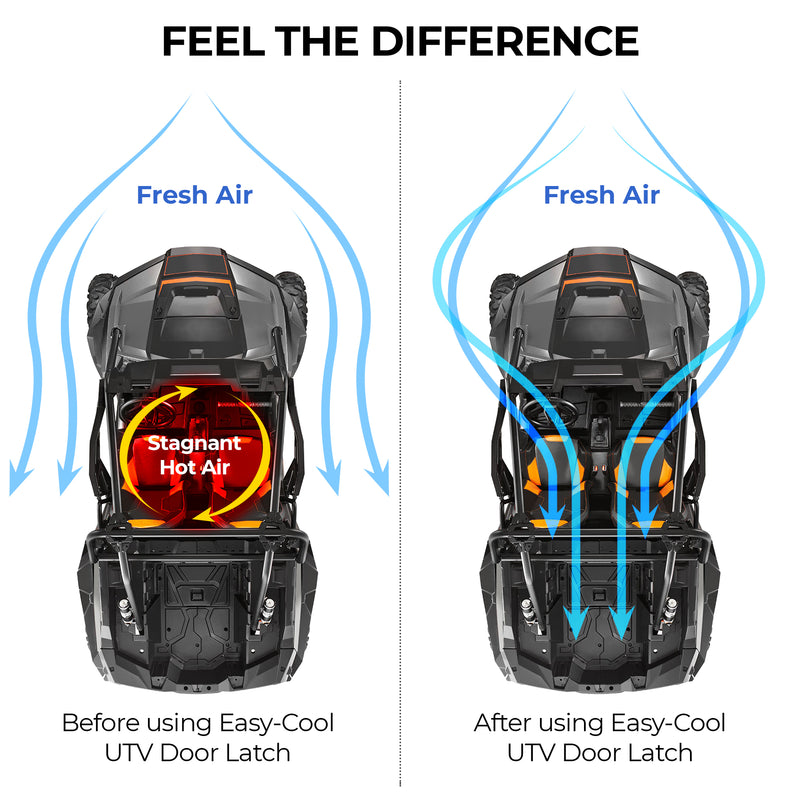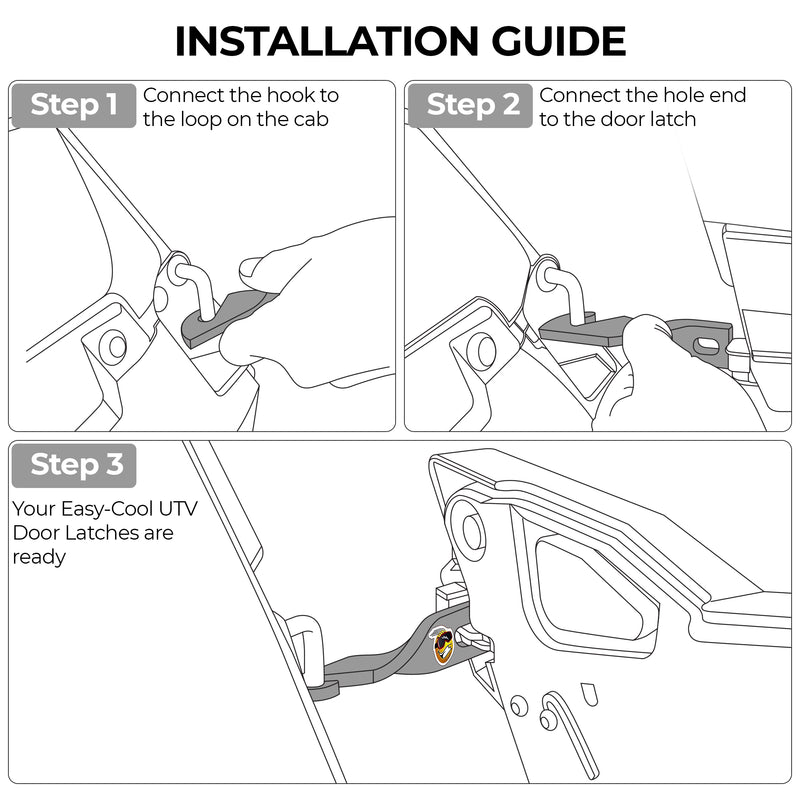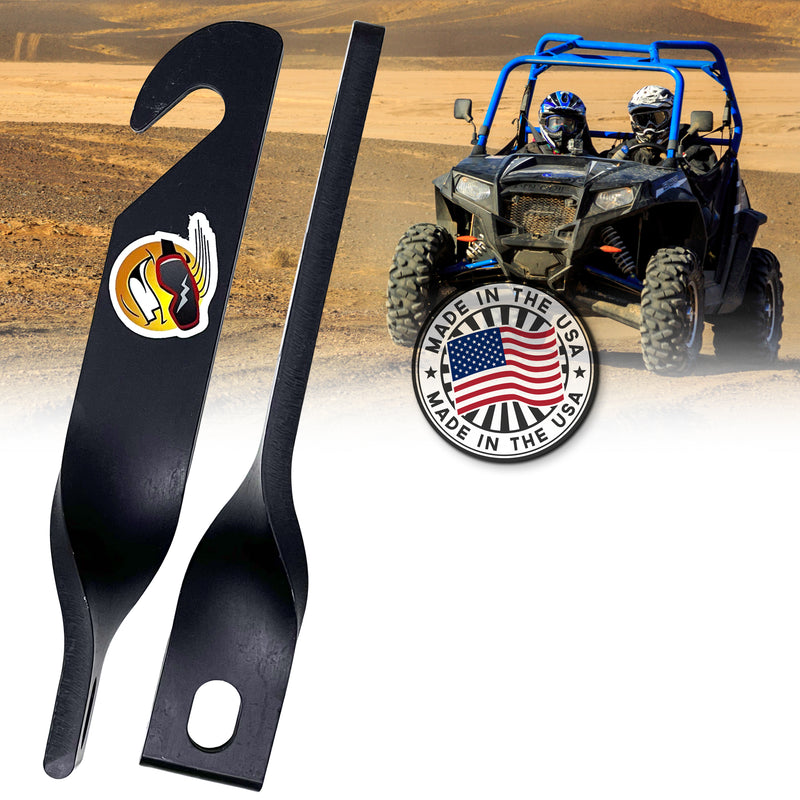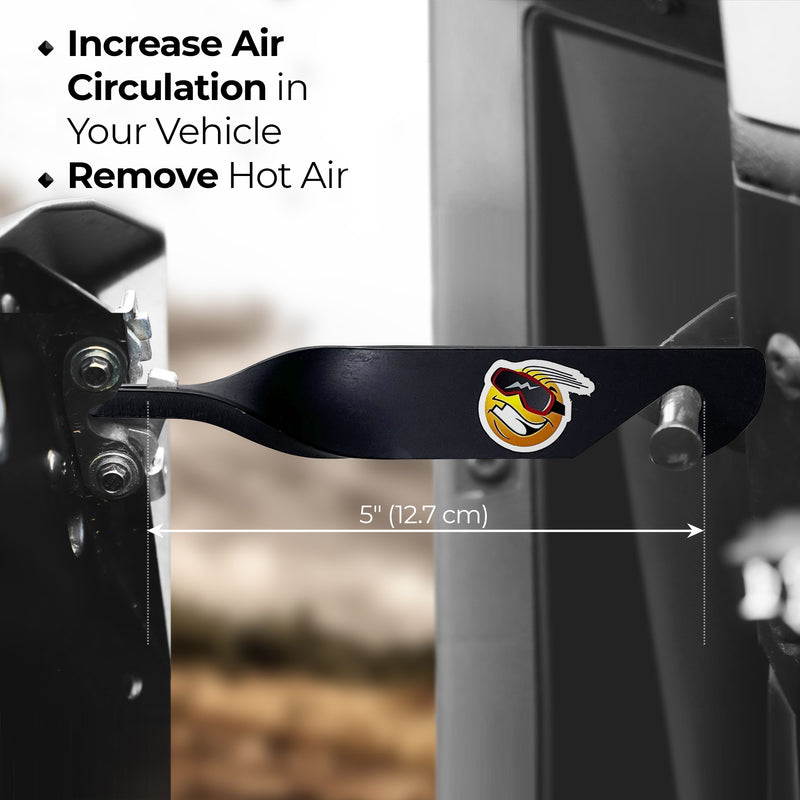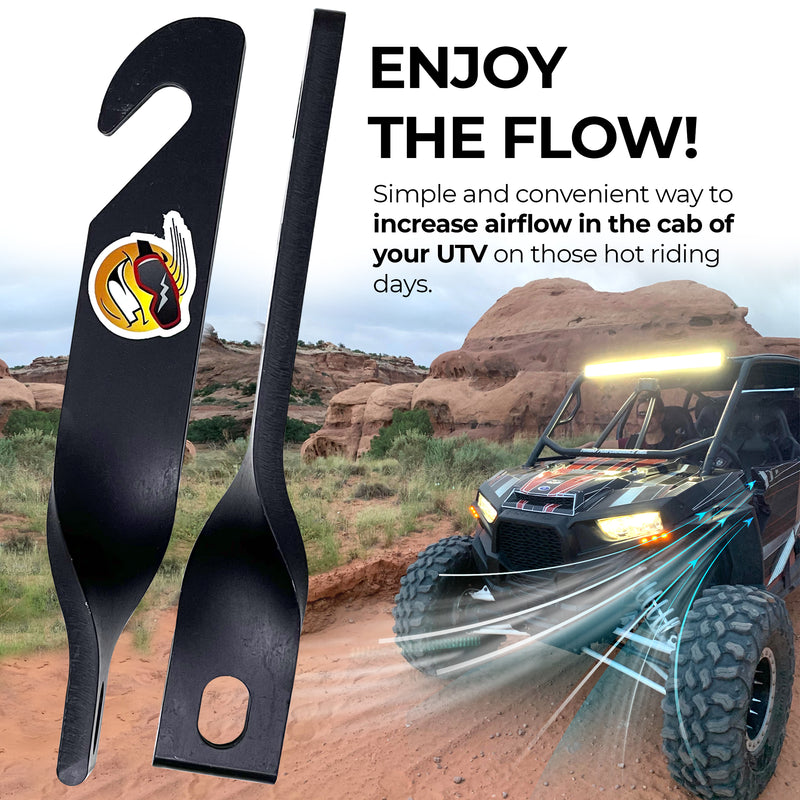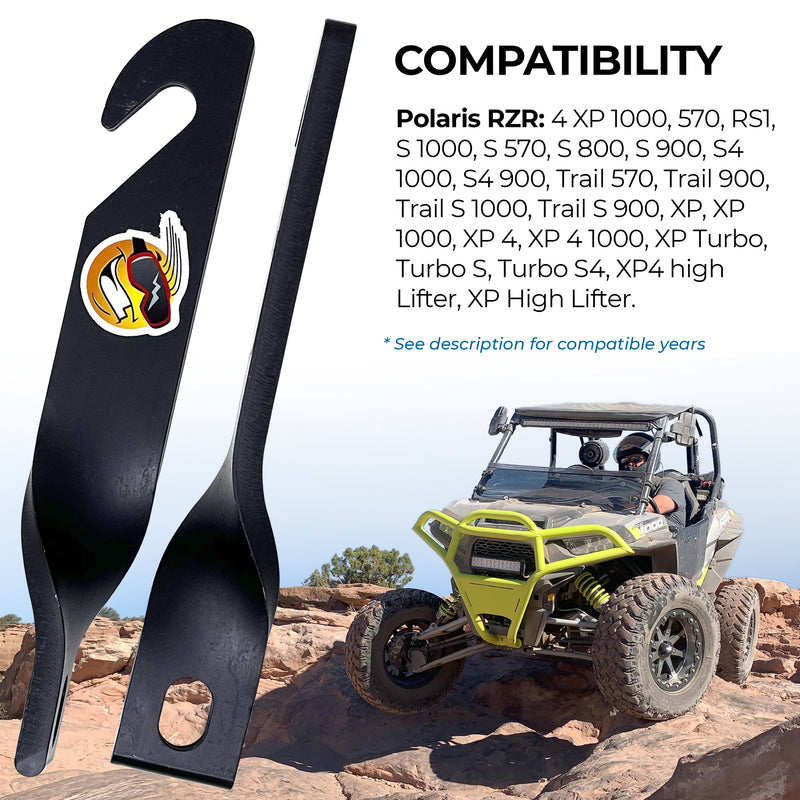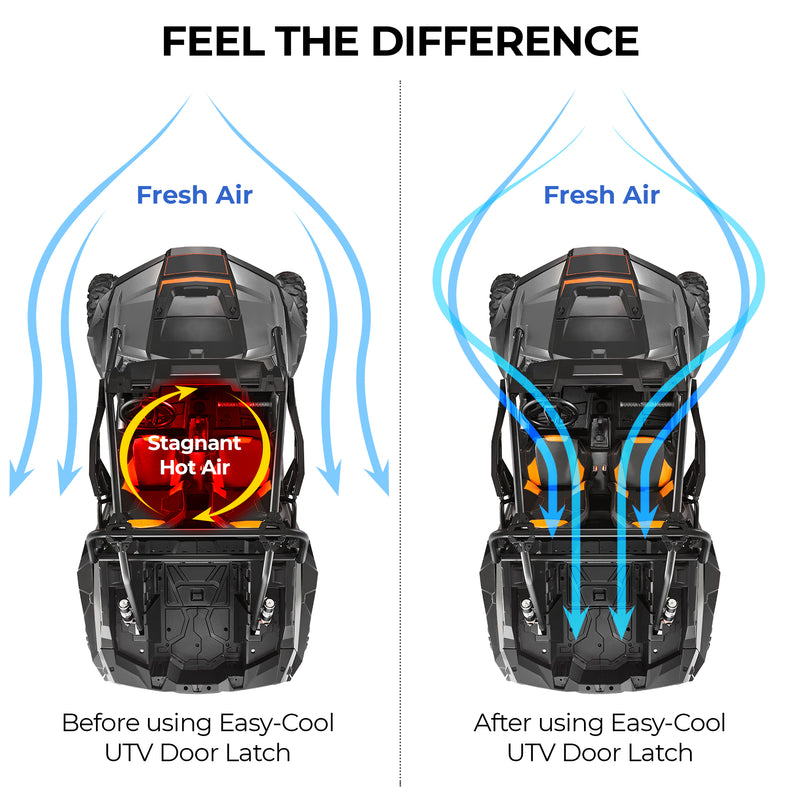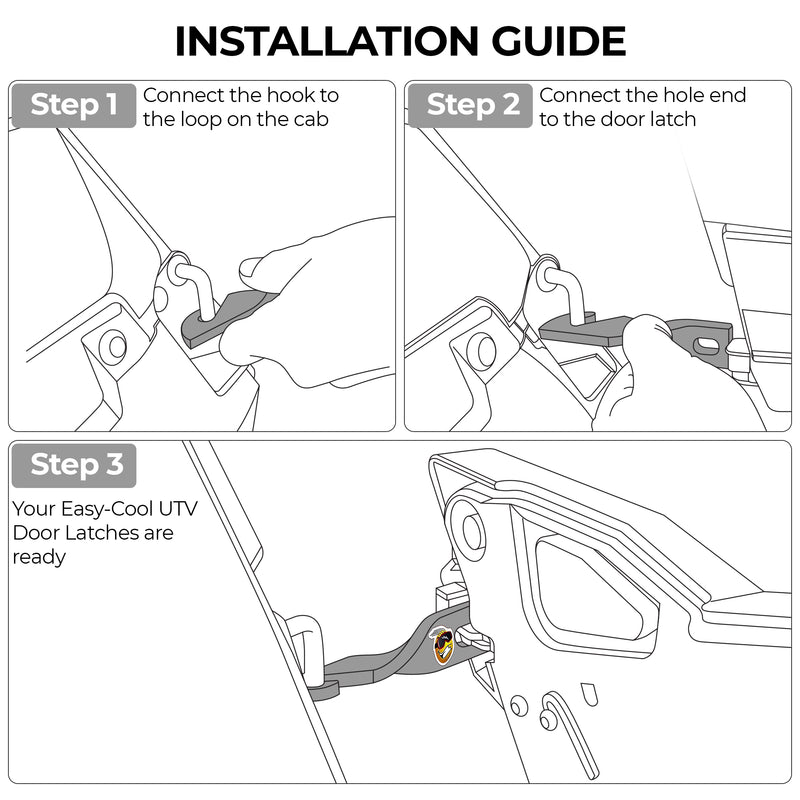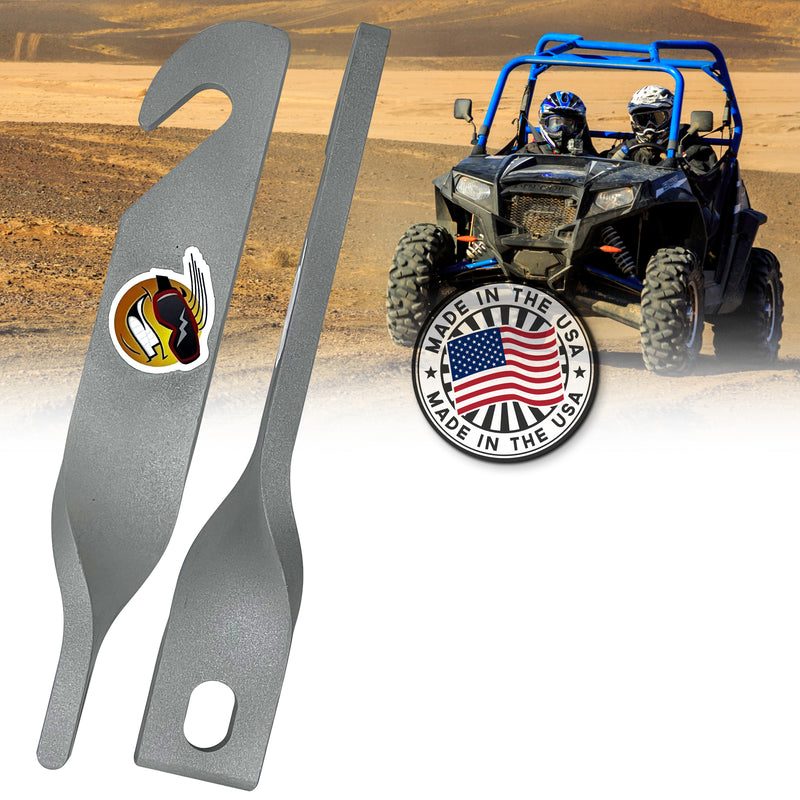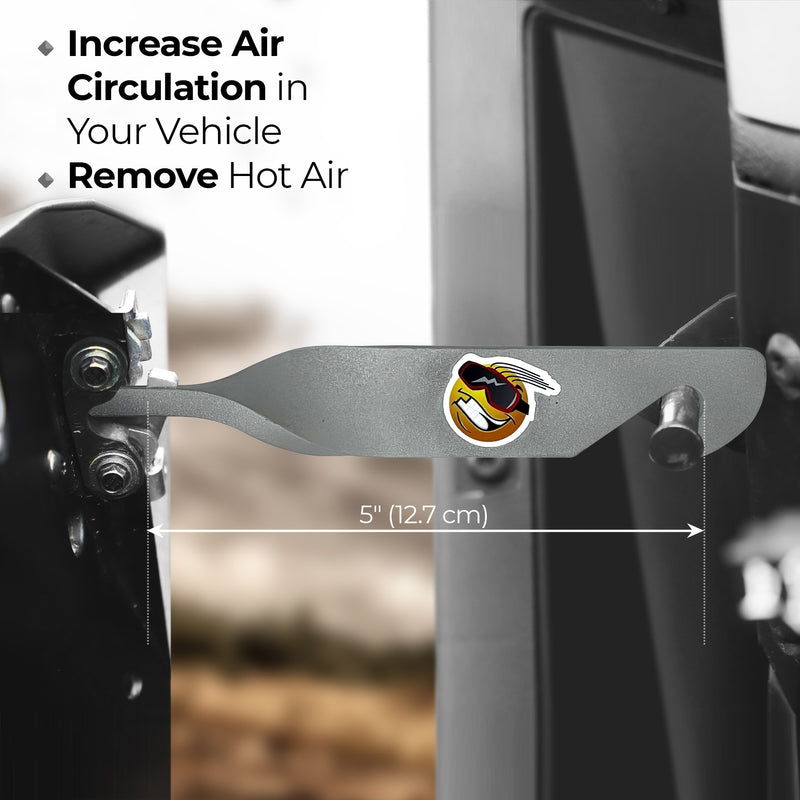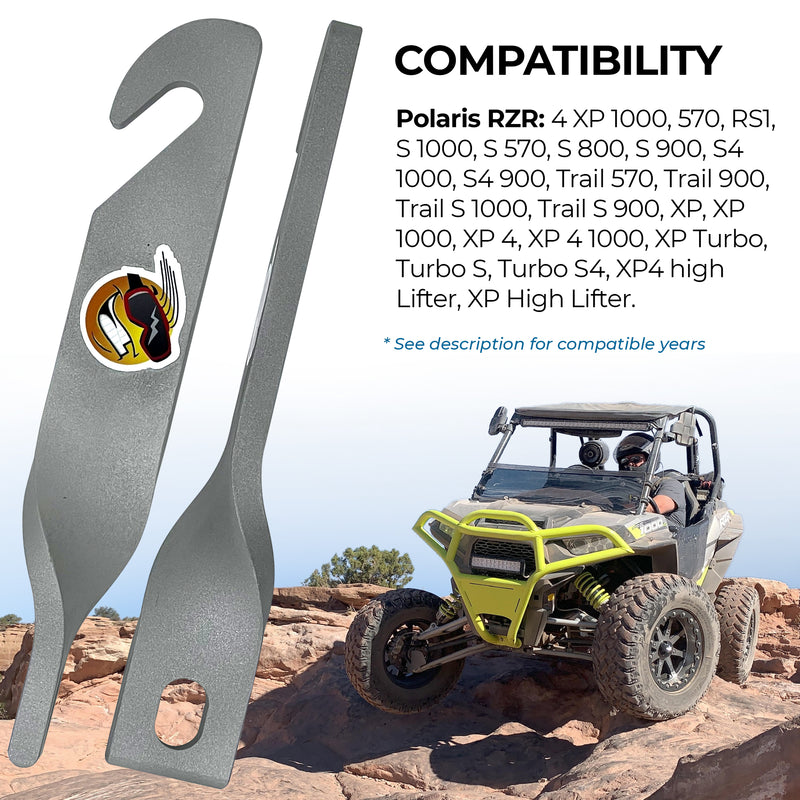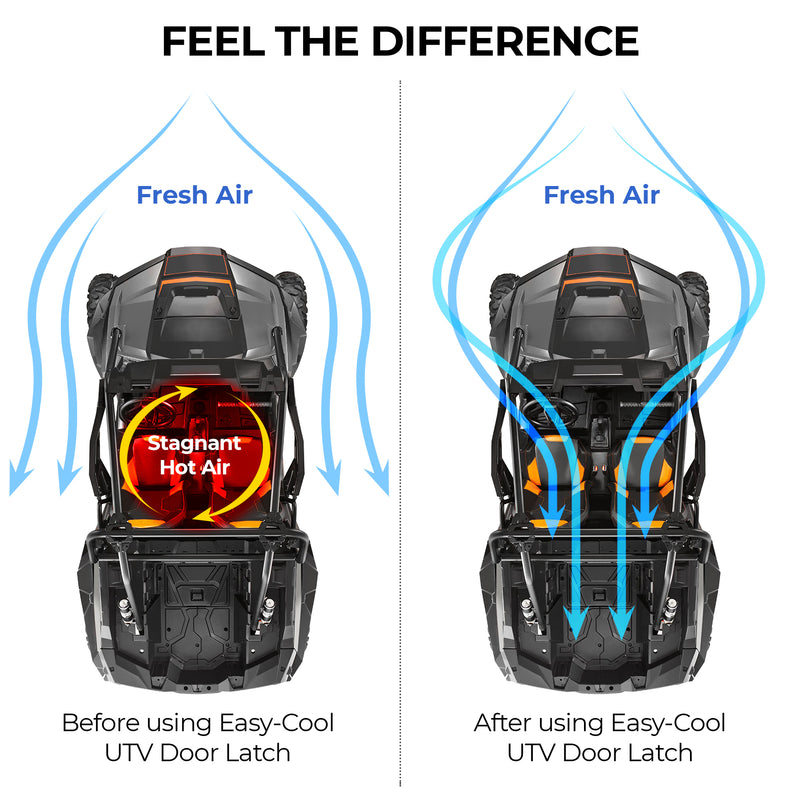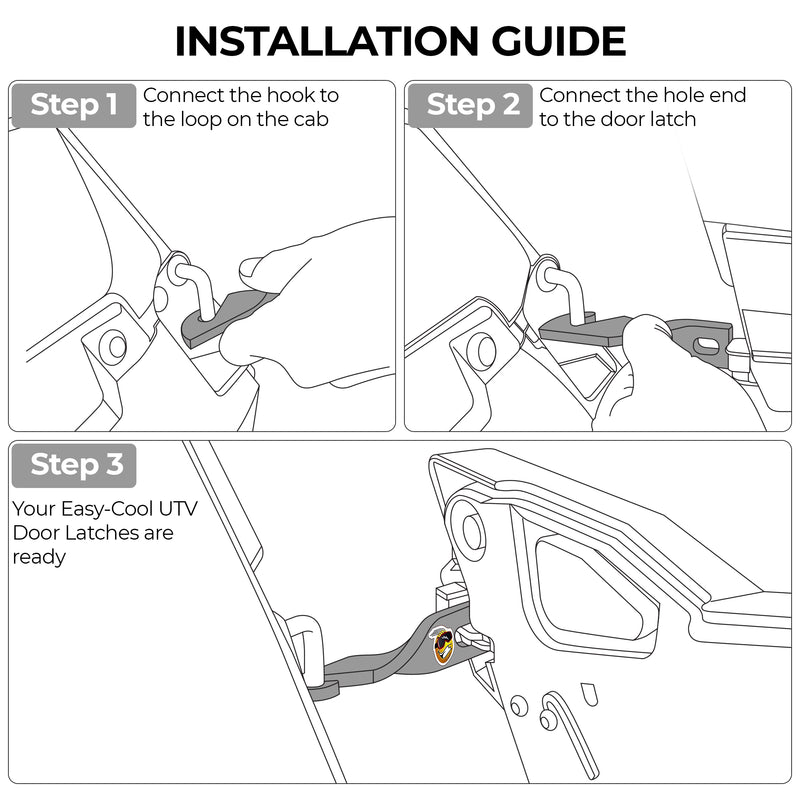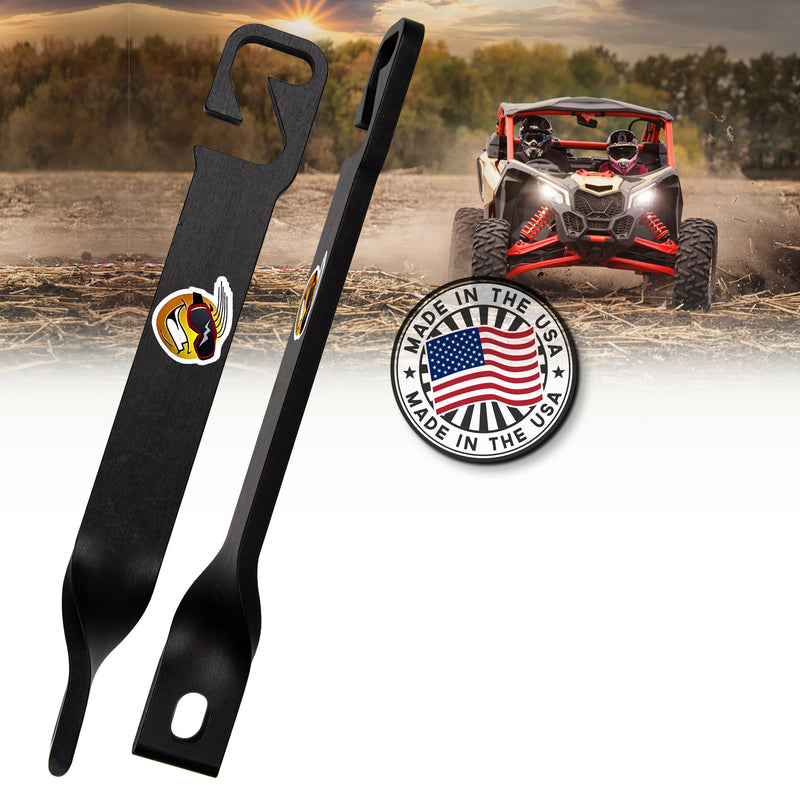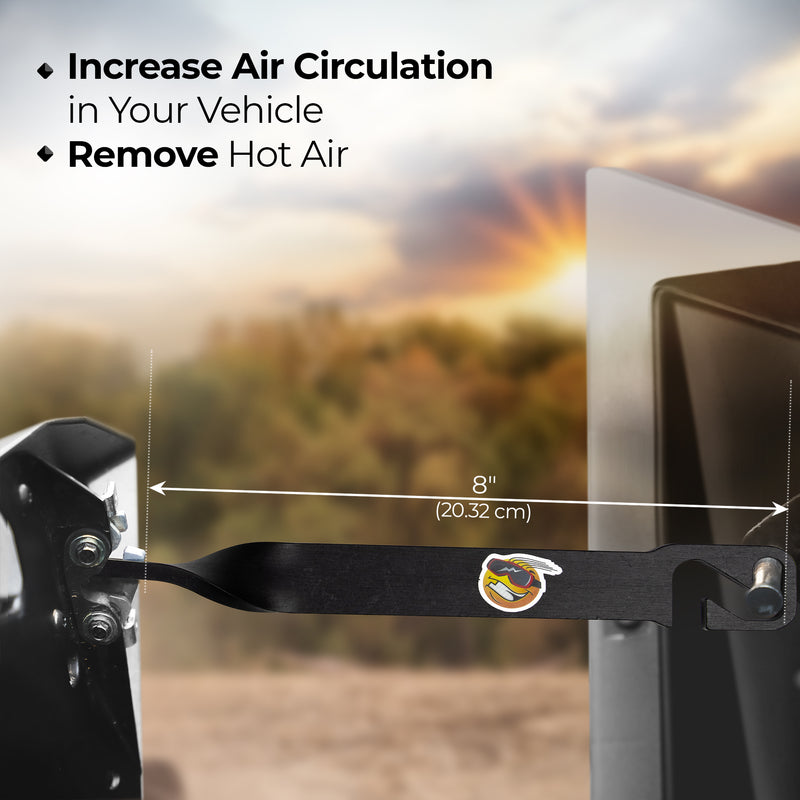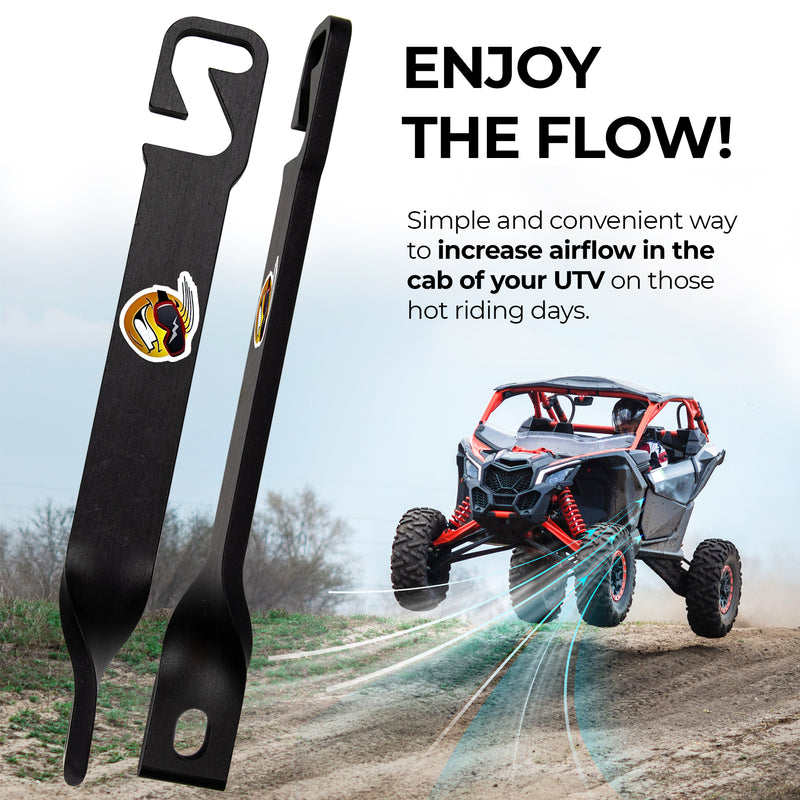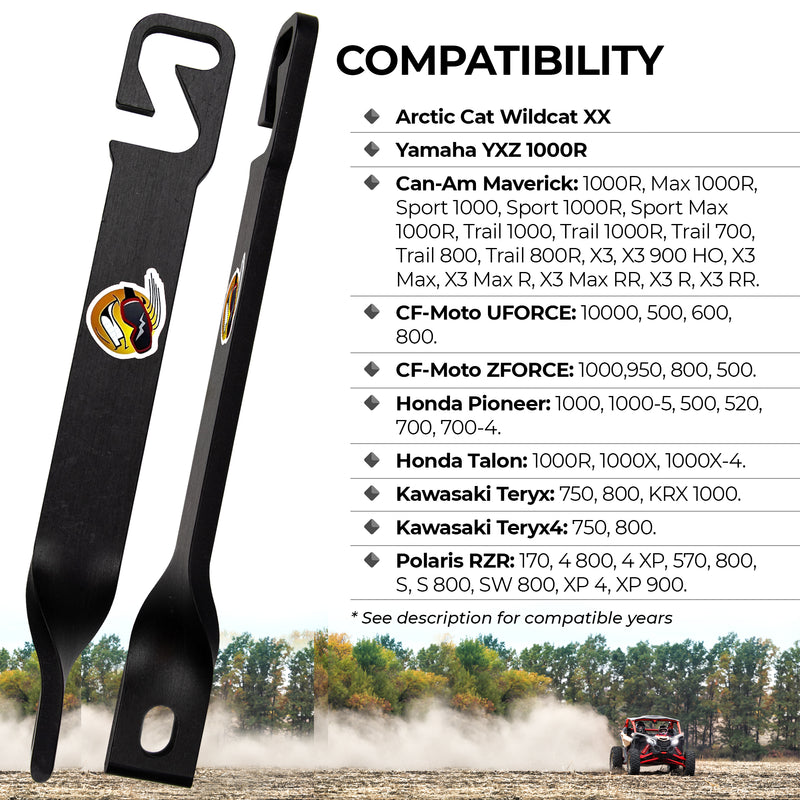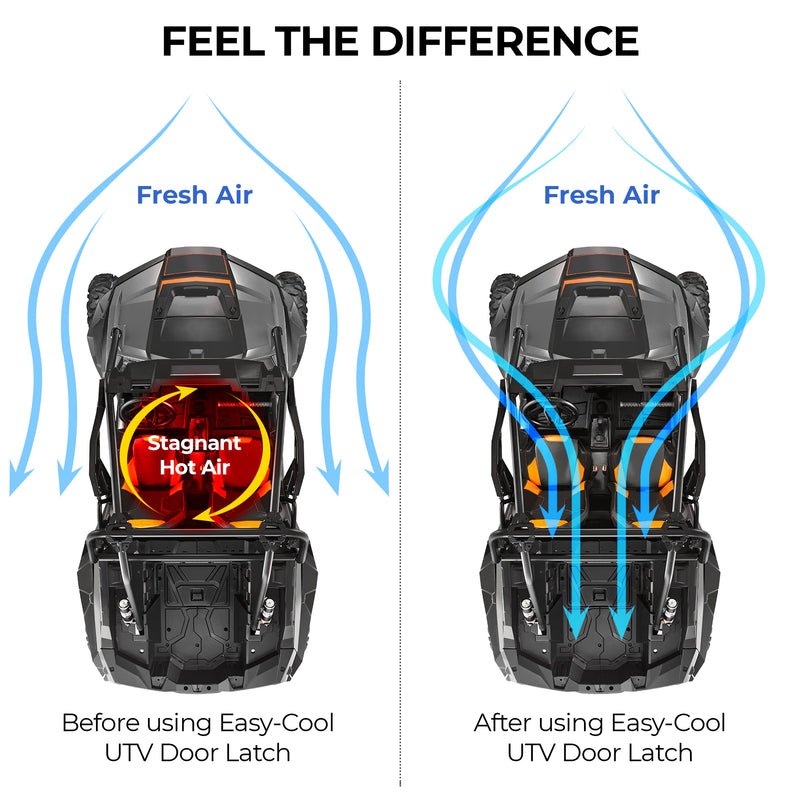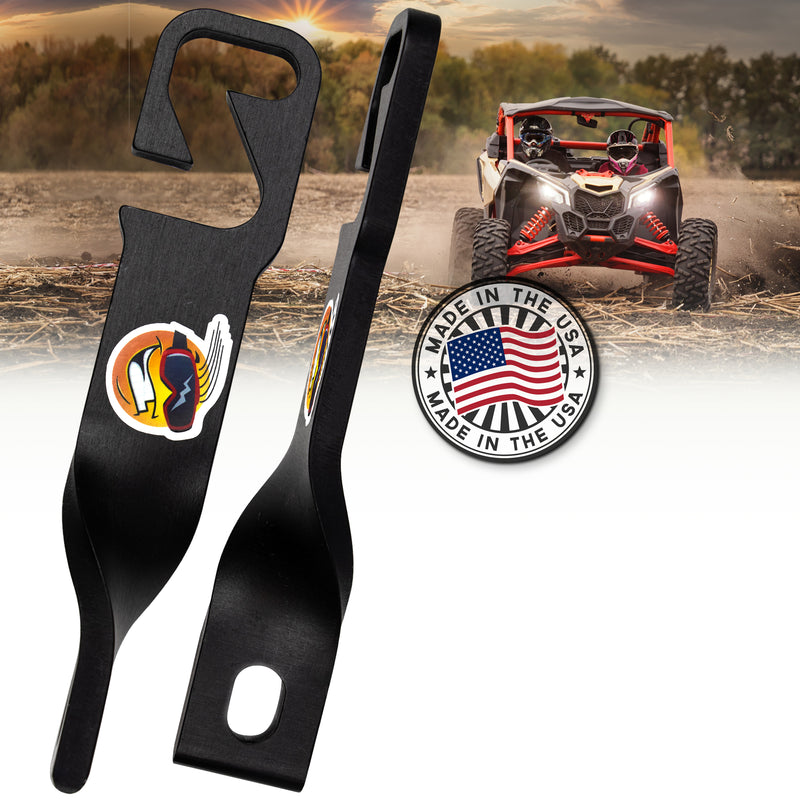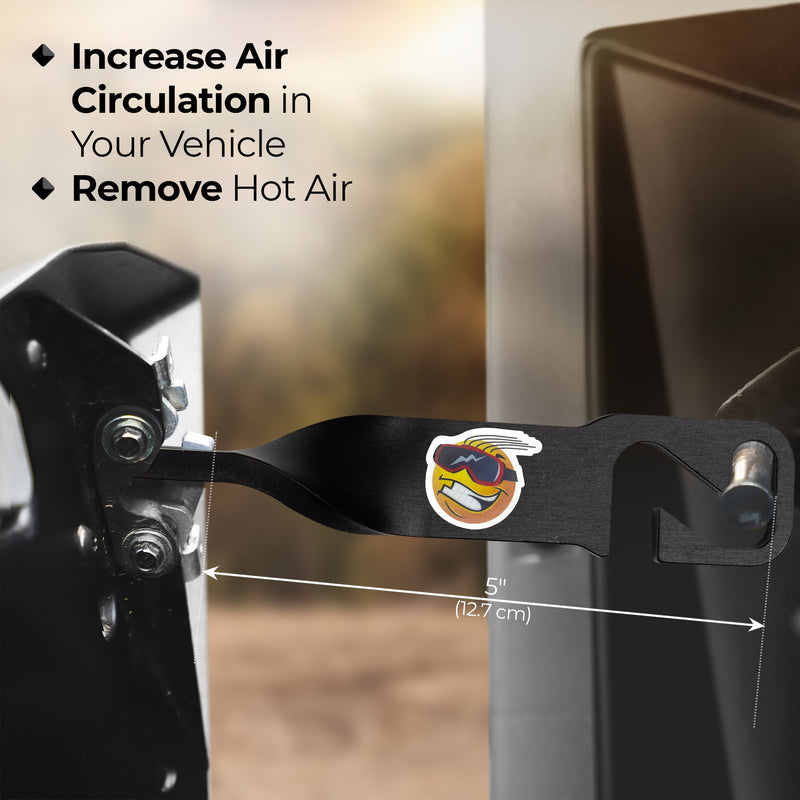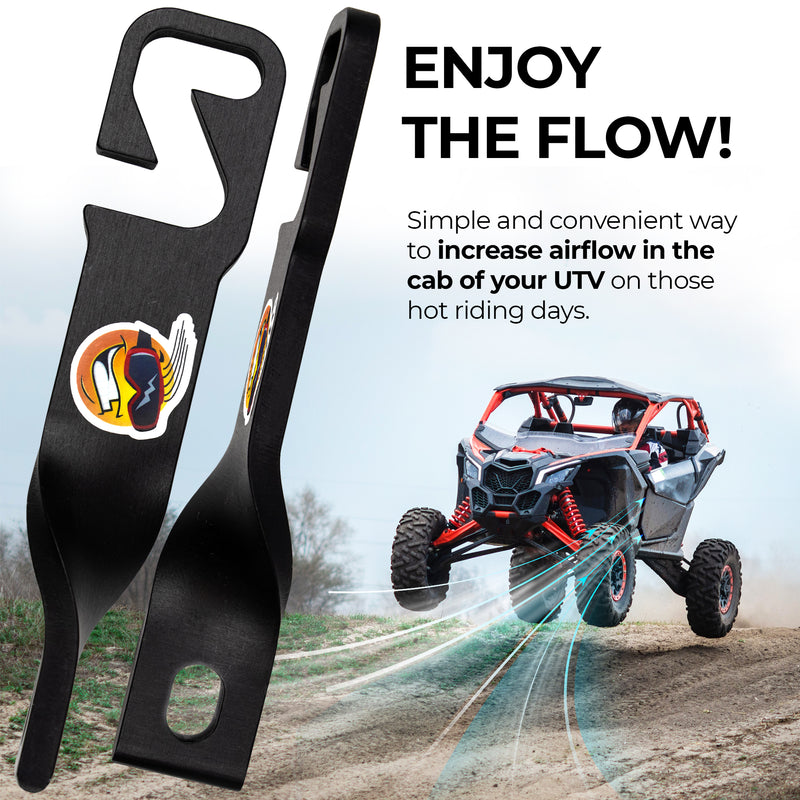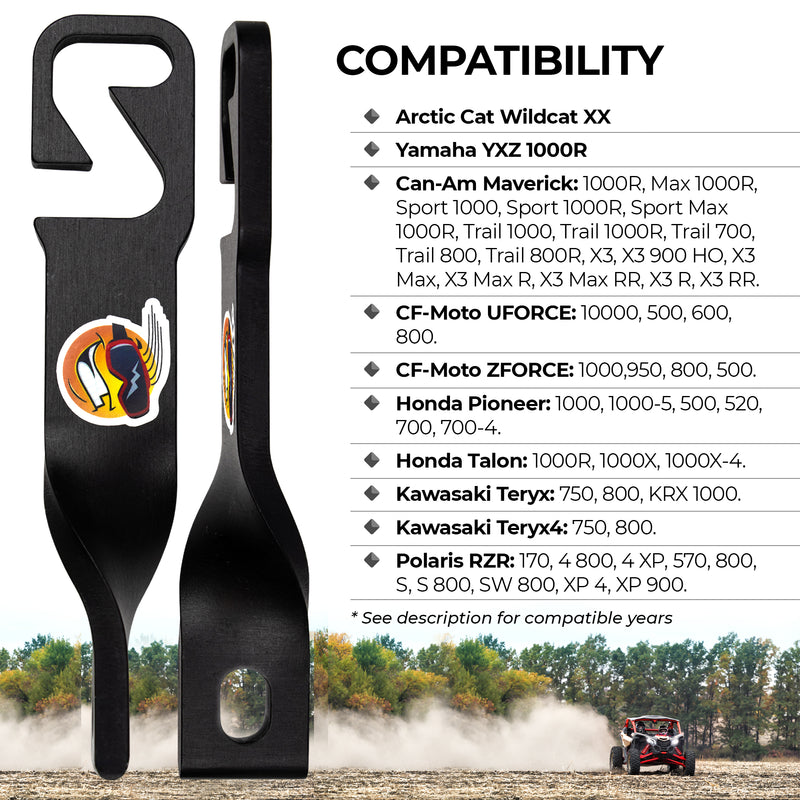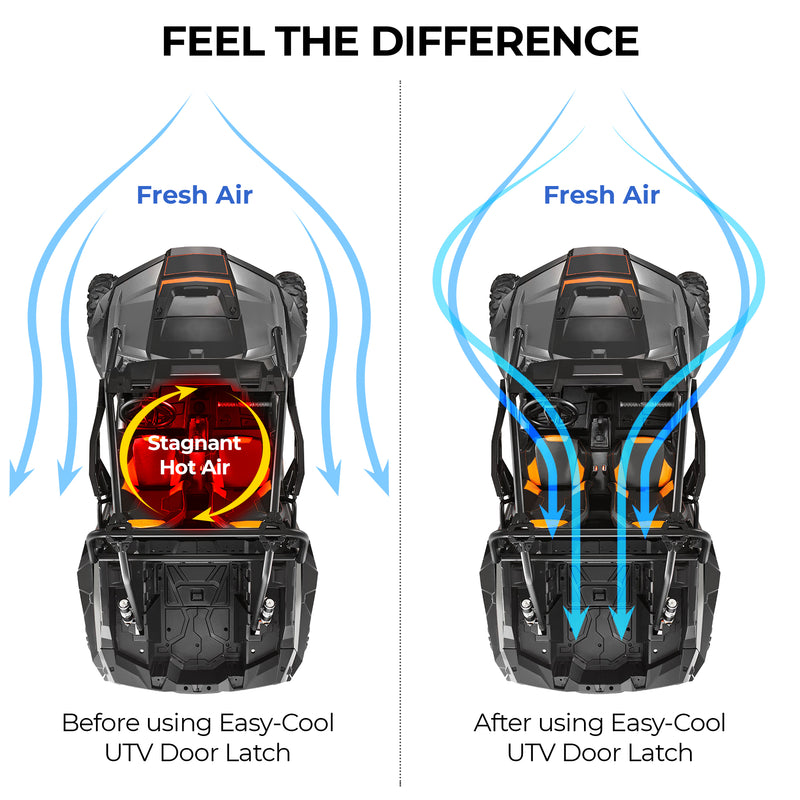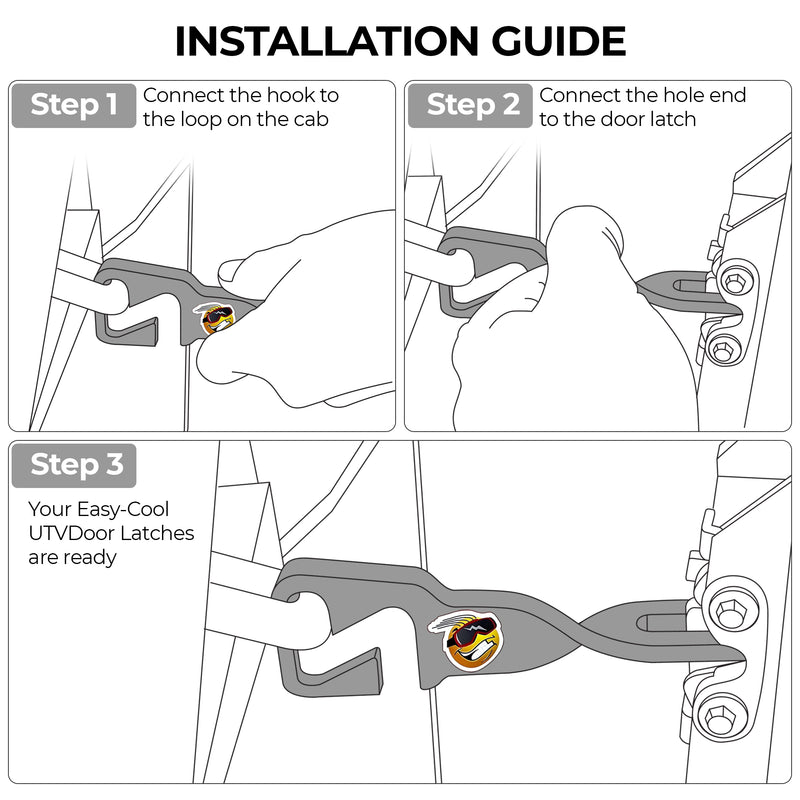 Enjoy the Flow!
 *Does not fit the RZR XP Pro.
The Easy-Cool XL UTV Door Latches are specifically designed for aftermarket fenders.  Available in the XL (5"), and XXL (8") variants.  For stock fenders, please refer to the original Easy-Cool UTV Door Latches.
Keep Smiling's Easy-Cool XL UTV Door Latches are a cost-effective, simple and convenient way to increase airflow in the cab of your UTV on those hot riding days. The Easy-Cool Door Latches can be self-installed between the stock loop of the cab and the door latch. This product keeps your doors open approximately 5-8" while riding. The Easy-Cool XL Door Latch allows doors to remain solidly open during the ride experience. Just add between the stock door latch post and enjoy the flow!
Easy-Cool UTV Door Latches are light-weight, easy to carry and installed for both two (2) and four (4) seat models. Product is made with machined billet aluminum for consistent tolerances and fit.
Creates air flow and eliminates hot, stagnant air in the cab
Simple install to existing door latch mechanism
Eliminates negative pressure in cab
Installs in less than 10 seconds
Available for most UTV makes/models
Made in Utah, U.S.A.
Packet includes: 1 pair Easy-Cool XL Door Latches and a Keep Smiling Sticker!
Riding Conditions:
The Easy-Cool Door Latches performs well in all terrains and conditions, including sand, mud, desert, rock crawling and everyday use/adventure.
Safety:
Easy opening of the door in case of an emergency; same as stock.
It stays in position even during bumpy rides.
Doors stay solid.
Maintains body line of the vehicle.
Amount of dust, dirt, and debris coming into cab is no more than stock open bottom doors.
RZR STYLE (21566, 21568, 21565, 21567)
(2014-2023) Polaris RZR: 4 XP 1000, 570, RS1, S 1000, S 570, S 800, S 900, S4 1000, S4 900, Trail 570, Trail 900, Trail S 1000, Trail S 900, XP, XP 1000, XP 4, XP 4 1000, XP Turbo, Turbo S, Turbo S4, XP4 high Lifter, XP High Lifter
S-STYLE (22296, 22298, 22295, 22297)
(2018-2023) Arctic Cat Wildcat XX
(2016-2023) Yamaha YXZ 1000R
(2017-2023) Can-Am Maverick: 1000R, Max 1000R ,Sport 1000, Sport 1000R, Sport Max 1000R, Trail 1000, Trail 1000R, Trail 700, Trail 800, Trail 800R, X3, X3 900 HO, X3 Max, X3 Max R, X3 Max RR, X3 R, X3 RR
(2018-2023) CF-Moto UFORCE: 10000, 500, 600, 800
(2018-2023) CF-Moto ZFORCE: 1000, 950, 800, 500
(2016-2022) Honda Pioneer: 1000, 1000-5, 500, 520, 700, 700-4
(2019-2023) Honda Talon: 1000R, 1000X, 1000X-4
(2012-2023) Kawasaki Teryx: 750, 800, KRX 1000
(2012-2023) Kawasaki Teryx4: 750, 800
(2007-2013) Polaris RZR: 170, 4 800, 4 XP, 570, 800, S, S 800, SW 800, XP 4, XP 900
Can't find your fitment? Contact us
Fitment
RZR STYLE (21566, 21568, 21565, 21567)
(2014-2023) Polaris RZR: 4 XP 1000, 570, RS1, S 1000, S 570, S 800, S 900, S4 1000, S4 900, Trail 570, Trail 900, Trail S 1000, Trail S 900, XP, XP 1000, XP 4, XP 4 1000, XP Turbo, Turbo S, Turbo S4, XP4 high Lifter, XP High Lifter
S-STYLE (22296, 22298, 22295, 22297)
(2018-2023) Arctic Cat Wildcat XX
(2016-2023) Yamaha YXZ 1000R
(2017-2023) Can-Am Maverick: 1000R, Max 1000R ,Sport 1000, Sport 1000R, Sport Max 1000R, Trail 1000, Trail 1000R, Trail 700, Trail 800, Trail 800R, X3, X3 900 HO, X3 Max, X3 Max R, X3 Max RR, X3 R, X3 RR
(2018-2023) CF-Moto UFORCE: 10000, 500, 600, 800
(2018-2023) CF-Moto ZFORCE: 1000, 950, 800, 500
(2016-2022) Honda Pioneer: 1000, 1000-5, 500, 520, 700, 700-4
(2019-2023) Honda Talon: 1000R, 1000X, 1000X-4
(2012-2023) Kawasaki Teryx: 750, 800, KRX 1000
(2012-2023) Kawasaki Teryx4: 750, 800
(2007-2013) Polaris RZR: 170, 4 800, 4 XP, 570, 800, S, S 800, SW 800, XP 4, XP 900
Can't find your fitment? Contact us